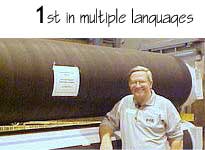 Week of 23 Feb 2009

Click here, then click "Trans lator" in top navigation bar for other languages.


This past Monday morning, 16 Feb 09, I received a phone call from a gentleman I did not know. He was complimenting me on a column that appeared here a few weeks ago. As the conversation went on, he told me two important items: (1) he thought my column was positive about the future of communications papers and (2) he is trying to launch some new print magazines. I tried to quickly and gently set him straight.

Last week, I heard that a well-known southern US mill that makes some variants on communications papers was left in shock when, due to poor business conditions, they had to take extended downtime at the end of 2008. They had never done this before.

Also, on Monday, I received an email from a gentleman that works for a specialty chemical company. Complimenting me on some of my columns, his main point seemed to be to vent about "how stupid the pulp and paper industry is." I presume he is not getting many orders these days.

And then I heard of a suicide this week of a former pulp and paper manager.

Obviously everyone's stress level is extraordinarily high. It is time for everyone to settle down and get real about today's economic conditions. We are in a war, an economic war, where the enemy (instability) is elusive, yet where cooler heads will prevail.

As far as communications papers (which I define as any grade of paper that combines ink and paper, but not including packaging), I have stated here many times that their day in the sun is over. The gentleman that wants to start the magazines protested, "but everyone I know hates to read anything on computer screens." I granted him this may be true. I went on to say, however, that the solution to this is going to be electronic reading devices that are better and more paper-like. The solution does not lie in paper. Further, consumers have indicated they are willing to sacrifice even screen reading quality for something they like even more--easy access. The evidence of this is the Kindle by Amazon which is not the best reader in the world by anyone's standards, but it is 3G wirelessly connected to the Internet, making downloads extremely easy. Consumers are sacrificing easy readability for easy access. It is only a matter of time before software and hardware designers make both better, much better. In fact, I don't want to turn this column into an advertisement for Kindle, but here are a few ad lines from Amazon about the new Kindle's features: "Just over 1/3 of an inch, as thin as most magazines; Reads like real paper; now boasts 16 shades of gray for clear text and even crisper images; and 20% faster page turns." It is obvious they are coming directly at paper.

The reality for communications papers is that they can no longer compete with alternative means of delivering information. They cannot compete on price and they can compete on speed. Bestselling books on Kindle are currently priced at USD 9.99. There is no reason why they won't go to USD 1.00. After all, the creative effort in a book is not much different than that in a song. The cost to get the first copy (song or book) out the door is most likely nearly the same. When the consumption of electronic books reaches the volume of consumption of songs, competition will drive the price down. No way can a paper book compete with this.

Kindle-like devices are and will continue to encroach on printed newspapers and magazines. The Kindle already carries 1,500 newspapers and blogs and may be the salvation for newspapers.

Back when the move was afoot to convert shoppers from paper bags to plastic bags, for a while I insisted on paper. Then I stopped, for I realized that economics would ultimately prevail, and a mere million or so dedicated paper industry people were not going to impact the conversion. It is now the same with communications papers. Yes, there will always be some newsprint and yes, there will always be some coated papers. The point is, they are going to rapidly (newsprint is already almost there) become niche products.

As far as the gentleman blaming his sales problems on the "stupidity of the paper industry" I'll point out that shining a bright light on the stupidity of the industry is my domain. Seriously, I have never seen sales succeed in any field by blaming one's customers. Sales are a matter of finding a customer with an itch you can scratch and then scratching it (for a fee). If you have a scratching device that you know potential customers are buying, but not from you, you have a communications problem with your prospects; if you have a great scratching device but your prospects don't have an itch, you have to go find another set of prospects that do. That is really all sales is and it never involves stupid prospects or customers.

Now, everyone, take a deep breath. Most likely you are going to survive the current economy and succeed in the future. There just may be some disconnects between here and there, not only for our colleagues that make communications papers, but for some others (maybe all of us) as we ride the bumpy road in the immediate future.

Speaking from experience (which I revealed here in gory detail back in December), the biggest set of issues one will face is that of pride and embarrassment. You may have to notch down your lifestyle and this may be an issue of embarrassment. I have done this in the past and survived. One time, I went from buying new cars every year to driving a fifteen year old pickup truck worn out and rusted out by our local utility company. I rebuilt the worn out engine myself in my garage so that I could reduce its oil consumption (no joke) from a quart every thirty miles to something reasonable. I had to carry extra oil with me to get to work and back before that (it was 92 miles round trip to my job).

You can downsize your living if you have to, and when you do, you are going to find out something extraordinarily wonderful: who your real friends are, for they will stick with you. The phonies will go away. You will also find out what you really "need" in life and can stop wasting money on the trivia.

Yes, life is going to change for all of us in the pulp and paper industry, but hasn't it always been changing? We are just going through a rather rapid transformation at the moment. Keep your head, decide what's real and move on.

If you are having trouble pulling a resume together, do your best and send it to me, and I'll help you get it in presentable form for free (if you are in the pulp and paper industry in any capacity). Just send it to jthompson@taii.com with "Resume Help" in the subject line.

Safety is real. I hope you are practicing it daily.

Be safe and we will talk next week.