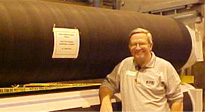 Week of 16 Jul 2007
A couple of weeks ago, I was looking for a new version of an accounting software package to use at my little company. I was at one of the local big box office supply stores. I did not see quite what I wanted (I saw the brand that I wanted, just not a package with the features). I called my wife, Laura, on my cell phone and asked her to look up the company's website to both compare prices and look for the package with the exact features. On the other end of the phone I heard a "Wow!"
"What was that about?" I asked.
She said, "An icon has popped up on the website and a real live person at the other end asks if I have any questions she can answer." Long story short, Laura and the service person engaged in an on line chat, they came up with the package I wanted and I bought it direct from the manufacturer. The manufacturer basically stole a direct sale right out from under the nose of their retailer because the retailer did not (could not?) stock the exact package that I wanted and which was available elsewhere.
This got me to thinking and sent me to look at a number of websites of paper manufacturers in the PaperMoney®40. Granted, most grades of paper are sold at the wholesale level, not the retail level, but it appears we are missing out on some sales opportunities. I did not look at all of the sites, but I looked at enough to come to the following conclusions.
1. Not one paper manufacturer's site I looked at came even close to having the pop up live chat feature I described above (or, for that matter, anything fresh and innovative for the customer).

2. Many had product descriptions.

3. Some had sample ordering capabilities.

4. Some required a password to enter the customer area, but I did not find a one of these that gave one any clues as to how to get a password and qualify as a customer. It would perhaps appear that one would need to contact a salesperson, but there was no indication as to how one would do this.

5. Overall, it appears that customer sales and service via the Internet is not considered a serious endeavor, particularly if you are a new customer.
Number 4 above, as well as the tone of some of the sites themselves, conveyed an attitude I felt and distilled as follows:
We know who our customers or likely customers are. You could not possibly be a serious potential customer if you are poking around the Internet looking at our site. Sit still, and if we haven't found you, we'll find you some day and let you be our customer (maybe).
What is wrong with building a friendly website that encourages that prospect that your crackerjack sales team has not yet found to become a customer? And if that new customer wants to buy small volumes to start with, why not set up your website with several levels of service? You could provide the small volume customer with a high level of service with a concomitant much higher unit volume price than received by high volume customers. Then as your new customer moves to higher volumes and becomes more sophisticated, you can move them back down the pricing structure to reflect the lesser amount of hand-holding per unit of purchase that they will require.
We still have much to learn about business-to-business marketing and sales. If your company thinks that Internet sales are primarily retail, it would be worthwhile for them to look at Dell Computer, which did well over half its sales business-to-business last year and nearly all of its $57 billion in sales on the Internet (and won over 200 product and service awards in fiscal 2006 alone).
The companies in our business that really figure out the Internet first will win new and higher margin business. What are you waiting for? There is at least small volume, high margin business being missed in your grades right now. Whole categories of customers you have not even thought exist may be passing you by for another, more friendly solution to their needs.
Beyond the website discussion, I did have a mill's sales manager tell me one time that they often had people showing up at the mill's gatehouse, with real cash, wanting to buy their seconds, but they (the mill) did not have time for that. That mill has since been closed and torn down, so they don't have to fool with those pesky customers with wads of cash any more—whew, that was a close one!
And, of course, your website is a great place to provide safety training for your prospects and customers. This can range from how to lift large boxes to proper feeding of printing presses and beyond. This would not only be a service to your customers, but just may prevent the success of a frivolous lawsuit.
Be safe and we will talk next week.