[Adv.] OpTest's OpTiSurf
Published: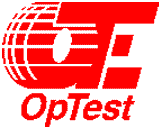 OpTest's "OpTiSurf" is indeed a new way to measure surface roughness. According to OpTest, "The OpTiSurf revolutionizes the measurement of surface roughness of paper. Using advanced optics and algorithims, it quickly quantifies the optical roughness of entire sheets. OpTiSurf correlates with traditional air leak tests but has greater precision and speed, with less maintenance." And I would emphasize that no air is required.

I suggest you look at it today--just click on "More" below. And when you talk to OpTest, please say hello for us here at Nip Impressions.

Regards,

Jim
Answer to last week's riddle: 4 weights are all you need: 1, 3, 9, 27. You can put one or more weights on the same side of the balance as the gift.

The riddle last week asked: "You have an unopened Christmas gift that you need to mail. To calculate shipping cost, you need to know how much it weighs. You know that it weighs between 1 and 40 lbs. (inclusive) and weighs a whole number of pounds. The only way you have to determine the weight is a pan balance. What is the minimum number of weights you would need to cover all the possibilities between 1 and 40? What are the weights?"

This week's riddle: You want to cook a 9-minute egg, but your only timing devices are a 4-minute hour glass and a 7-minute hour glass. How can you properly time the egg and get the egg on the table as soon as possible?
Comment