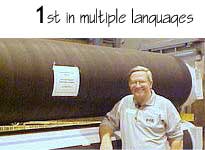 Week of 26 Jan 2009

Click here, then click "Trans lator" in top navigation bar for other languages.


Late in the evening of 8Jan09, Fred and I were cruising northbound on the Indian Nation Turnpike in southern Oklahoma, our destination for the night being Broken Arrow. Listening to satellite radio, we heard that Larry Flynt (of "Hustler Magazine" fame) and Joseph Francis (of "Girls Gone Wild" videos) were asking the US government for USD 5 billion to bail out their beleaguered industry. My only thought, other than "how silly," was, in most industries, a major layoff seems to produce a plethora of progeny in about nine months--what do laid off Flynt employees do? As far as the money goes, hey, everyone has their hand out these days.

On 13Jan09, the AF&PA (American Forest & Paper Association) issued a press release with a request for federal government economic help. More sophisticated than Flynt's (they did not ask for a direct bailout in cash), the AF & PA's thought process and timing appear typical of their efforts on behalf of their members for many years--often they are not particularly creative and are usually late with whatever ideas they have.

It pains me to say this, and I hope my good friends who are former AF & PA board members (all of them retired now) take little or no offense, but our industry today needs something more than the same old same old. AF & PA continues to operate as they did when the current grades of pulp and paper made the industry a vibrant and growing industry. They continue to operate as the teenager who says "it's not my fault" as they seem to idly watch markets decline and evaporate. Monte Haymon, now retired and a former AF & PA board member, made a statement when I worked for him which I have never forgotten--it went something like this: "I don't care what the markets are doing, I hired you to make your numbers in spite of the markets, not because of them." Tough love, but so true.

The AF&PA's press release suggests government help to stimulate the housing industry in order to save our "...$200 billion manufacturing sector, its 1 million employees, and the sustainable forestry practices that our industry makes possible." (You can read the whole release at [Click here] to ensure I am not quoting it out of context). Asking the government for help to maintain an industry needing complete revitalization is to not recognize or change the end game--when the money runs out, no matter the source, the business is done.

Several have recently shared with me the current thinking on "Agenda 2020"--the AF & PA's attempt to modernize our industry. Asked my opinion, I have told every one of them it looks like they are "rearranging the deck chairs on the Titanic." And it pains me to say this, too, for the current manager of this program is someone I have considered a good colleague, friend and very competent professional. Perhaps his influence is diminished by pre-existing inertia.

We need initiatives to develop massive demands for communications papers of all kinds--we can't save enough water or energy to revitalize products no one wants to buy. Tissue and packaging will continue to be in good shape, but any grade that can be displaced by computers and the Internet is in serious danger of irrelevancy or extinction.

We have to change our thinking, now, if we haven't already waited too long, in order to transform our industry. Our organizations of the past, professional or lobbying, have failed us miserably. I am as upset with them as I would be had I been a Bernie Madoff investor. These organizations have overseen the decline of our industry while providing only weak responses. We are now the frog in the pot of ever hotter water, about to be cooked.

Wood, non-wood or cotton cellulose are wonderful materials with many beneficial and economical qualities for humankind. Yet, the only thing we seem to come up with as a "new" large scale way to use wood is to burn it to make electricity! Work is afoot to make it into chemical products, but most of these efforts are either way off or wrapped up in some social scheme to save obsolete facilities and their jobs. We need to look at the steel industry and what it has done to transform itself--there is not a Nucor mill, to my knowledge, that is located on an old steel mill site. They started fresh, and we need to do so too, once we figure out what to make. Our people will move to promising, solid jobs from wherever they are.

There was one tiny bit of encouragement that appeared this week. Kodak has introduced a new printer line (the "Kodak ESP" line) with very economically formulated inks. This may induce consumers to print more, but this is only one of many initiatives we need in order to revive communications papers, if it is possible to do so at all.

It is a week of dreams, and it is my dream that some hard-charging mid-career pulp and paper executives will band together, probably under a new aegis, and show our industry some leadership. The old ways, which served us well in the past (and should be honored for their past service despite my ranting here) are obsolete and need to be cast off by a new generation ready to shoulder the responsibilities, for the sake of humankind, to take nature's wonderful cellulose and use it to develop a better human experience. Do this, and the economics and vibrancy of the industry will take care of themselves without help from anyone.

Looking ahead, over the next two weeks, I'll be explaining modern first world macroeconomics in a total of less than 2,500 words. You won't want to miss these two columns.

In the meantime, be safe. Northern hemispherians are off on ski vacations in the next few weeks. Watch safety on the slopes so you can get back to work in one piece. We need you.

Be safe and we will talk next week.