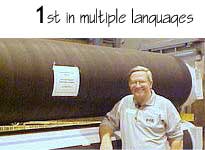 Week of 12 Jan 2009

Click here, then click "Trans lator" in top navigation bar for other languages.


In the week of 4 Feb 08 edition of Nip Impressions, we discussed "sustainability" in a column titled, "So what does 'sustainability' mean?" Little did I, or I suspect anyone else, know that 2008 was going to be the largest lesson in the antonym, unsustainable, that humankind has witnessed in a long time. For we learned, at least in the fields of finance and economics, that the practices we were following were not sustainable on many, many levels.

The lessons are not over, particularly for us in the pulp and paper industry. In this column last week, I pointed out the warning signs of an unsustainable employer and suggested you take personal action if you find yourself working for such a company.

One of the companies in the PaperMoney 40, Chesapeake Corporation, has already failed. Others will do so, from the looks of their financial condition and the markets they serve. Private equity funds quickly picked up some of the pieces of Chesapeake, but it is not a foregone conclusion they will be successful, i.e., that Chesapeake has a sustainable business model. On the surface one would think so, for they have, in the last fifteen years, transformed themselves into a packaging company, but, obviously, the "devil is in the details" and they did not successfully execute their strategy.

Even the vaunted Aracruz, another PaperMoney 40 member, which I assume is in no way near default, had an as yet unexplained mass departure from its board of directors. On 27 Nov 2008, Aracruz announced the departure of 6 board members and a non-board member on its tax committee (http://aracruz.infoinvest.com.br
/enu/2311/Noticetothemarket_27.11.08.pdf), not exactly an indication all is well.

I often speak of "spinning the invoice printer," the most important machine any company owns. This bears repeating here, for if you are not meeting the acid test of spinning the invoice printer, you do not have a sustainable business. But in these times, it is even important to go one step further, and state your invoice printer must be churning out invoices having a high probability of success, say around 99%, that they will be paid. It is more important than ever you do due diligence, current due diligence (two or three months old is stale these days), to ensure the money will come rolling in on the schedule you anticipate.

In the consulting arm of my company, Talo Analytic International, Inc., we probably receive one or two requests per week for our services in one form or another. Most of these are graciously turned down, for while they are certainly assignments that will keep us busy, there is no assurance there will be real money forthcoming from any invoice we submit. I have learned over the years, the hard way, to only deal with reputable clients.

The same is exactly true in your paper mill or in your business providing services or equipment to the paper industry. There are plenty of activities in which you can engage which will keep you busy, but what about the pay day? A decade ago or so, a famous US paper machine builder learned this the hard way when they attempted to persuade a customer to actually pay for paper machines already built and shipped to them. Do not confuse activity with a sustainable business--no way are they the same thing. Restated, sustainable businesses do have lots of activity, but lots of activity is not an indication of a sustainable business.

Yet more will not heed these words and soon face bankruptcy. Why? They have not faced reality. Modern team spirit dogma requires us to soldier on, through thick or thin, the belief being that just being determined will see us through. In some cases this works, but in others it does not. More important than dogged determination is the ability to see through the hope and hype and really assess one's chances. In some cases, say lost in a blizzard, there is no choice, you march on or you freeze to death. But in business, there is usually time to change course--the failure lies in not doing so because of hubris, fear of embarrassment or just plain poor assessment of business conditions. It is tough to do, but some companies, not yet quite on the brink, need to do so if they want to be sustainable.

Practicing good safety habits is no doubt a sustainable activity. Not practicing them is so obviously a shortening of quality of life, if not life itself, that it hardly needs stating.

Be safe and we'll talk next week.