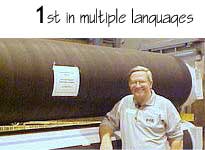 Week of 5 Jan 2009

Click here, then click "Trans lator" in top navigation bar for other languages.


If you want to stay in the pulp and paper industry in 2009 and beyond, it is time for an assessment. You have two choices--bury your head in the sand or take positive steps to influence your future career and financial prosperity.

First, should you consider changing companies? I think there are several warning signs one should assess in depth in order to make this decision. The first of these, if you work for a public company, is the company's stock price. If your employer's stock has become a penny stock (a stock worth less than $1.00 per share), the future probably looks shaky. If your company's bonds are rated below BBB (Standard & Poor's) or below Baa (Moody's) they are junk bonds. These two matters (penny stock and junk bond rating), coupled together, means your employer is going to have an extremely tough time raising fresh capital, whether it be for internal investments or just cash to operate the company. Unless you know of some great overriding real (not delusional) feature, it is time to go.

Second, what does your company manufacture? If your company's products, or if your company's customers' products involve physical delivery of communications, you are probably in a dying business. Businesses involving physical delivery of communications are obviously businesses printing newspapers, magazines and books (I heard recently some wise person has made the statement that the last person to read a paper newspaper has already been born--I agree with this). There are some subtle ones, too though: printing music CD jewel case labels (physical delivery of music is nearly over), a portion of the shipping boxes used by overnight delivery services and so forth. There is a reason why Fedex heavily advertises the services of the old Kinko stores they acquired: printed reports, Kinko's forte, are nearly obsolete. Fedex is merely trying to extend their life by a few more years.

The one communications paper grade of high volume which probably has some future life is uncoated freesheet or recycled content for computer printers. Also, "NCR" paper, if you are already making it, will be around for a long time for cash register receipts and other point-of-purchase devices.

You want to find yourself in a company which manufactures paper or sells to customers using paper for its material and physical properties. The two obvious areas are hygienic papers (toilet tissue, commercial tissue and toweling) and packaging of all kinds from corrugated containers to retail packaging. Typically, the higher end products are better, but not necessarily right now, especially in tissue. Tissue manufacturers which sell to extreme discount stores (such as Dollar Tree, Dollar General, Aldi and so forth) are generally doing much better than high end tissue manufacturers for the moment.

Another choice place to be, assuming you are in grades with a future, is in medium to large size private companies. This does not include companies held by private equity funds, I mean companies where the ownership is actively involved in the business. Such companies, and there are several, do not have to worry about stock price and hence can take advantage of current conditions to build their businesses. In reality, in a publicly traded company, everyone is an employee, including those at the very top, and employees all tend to act in their own personal best interests, despite some acknowledgment of fiduciary duty. There are some exceptions to this, such as my good friend George Mead, who ran Consolidated Papers, Inc. for many years, a public company, but one his family had founded. Such people acted as owners, not employees, but, unfortunately, most are retired now.

So, you have read this far, and find, at least by old Jim's criteria, you may be in a dangerous place. On top of this, you have children in secondary school or your elderly parents live three miles down the road and moving is not a real option. What do you do?

If you are stuck in place, your option may be to find a supplier to the industry for which to work. This may be a position involving heavy travel, but it is a position where your skills are transferable and which will keep you in mills. Such a position may be a placeholder for your career--a place where you can keep in touch and see intimately how a number of companies (your employer's customers) operate. Then, when the conditions which have you stuck are over, perhaps you can move into one of your customers' locations.

Again, if you are stuck in place, you may be able to find a tissue converting plant or packaging operation locally where you can apply your skills. These are far more plentiful than paper and paperboard mills and, if you are in a first world country, there are probably several within driving distance of wherever you currently live.

If you can find a building products mill (roofing felt, gypsum wallboard paper) which happens to be hiring, this is probably safe, too. These businesses almost have to be at the very bottom now, with no way to go but up. So, if you find one needing your skills, you can probably count on a six to ten year stint with them.

You may think it is self-serving (read: old Jim does not want the competition) to tell you to avoid consulting, but my real reason for saying this is consulting, unless you have some very special well known skills, is a daunting business to enter and be successful. I tell people coming to me seeking advice on this subject the following: If you like to write, and can do so quickly and expertly, and you like to be on job interviews, come on in, the water's fine. General consulting consists of two activities: writing and interviewing for your next assignment. It is hard work. On the other hand, if you have a particular exquisite skill and are well known, you can be a success. I once knew a gentleman capable of making any old winder run, no matter how decrepit. He was in high demand, so high of demand he decided to double his rates to see if he could reduce his workload. All he did was double his income. If he had thought, there was a hint of his "problem" staring him in the face: when the mill I worked at needed him, corporate would send their private jet to fetch him, no matter where he was, and bring him to our mill. This is a reputation you can retire on.

Is this still a great industry? Absolutely. It is, however, an industry of change. Your challenge is to get in the thick of the change and make yourself valuable and marketable to the survivors. There are twenty-three year olds right now which are going to have great, long careers in the pulp and paper industry nearly anywhere in the world. It is a matter of preparation and attitude. So, if you find yourself in a bad place, take it upon yourself to get thee to a safe place. They do exist.

In the meantime, watch your personal safety. It does not make a good impression to go to a job interview with your arm in a cast or twenty stitches across your forehead.

Be safe and we will talk next week.