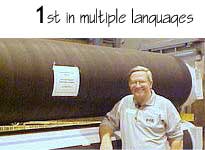 Week of 22 Dec 08

Click here, then click "Trans lator" in top navigation bar for other languages.


Although a large portion of the activities discussed here this week occur in the United States, similar activities are occurring elsewhere, and more importantly, even the provincial ones here are affecting everyone. So, I'll be using local knowledge, but think you may find it applicable, or for sure, impactful anywhere.

In the last four months we have become the "bail-out nation." Everyone is in Washington, D.C. with their hands out. This is a horrible idea and violates every principle of capitalism and probably a few of those of socialism as well. When people and entities are not responsible for their actions, everything falls apart. This does not mean one need act harshly or without mercy towards fellow human beings, but mercy and tenderness are not in the same realm as total forgiveness for any responsibility.

The new administration is talking about taking this further, about investing in infrastructure projects. The president-elect talks about "shovel ready" projects just waiting for funding that will employ legions. This looks like it will happen.

There is, however, some non-ideological foolishness going on here. Franklin Roosevelt's WPA (Works Projects Administration) is cited as the model. In its day it was somewhat functional--but a lot has changed since then. Public works today--road building, dam building and so forth is nothing like it was in the 1930's. First, one has to go to court for 5 - 10 years to fight off every interest group imaginable in order to get permits to build things. Then, when construction finally starts, one does not see legions with picks and shovels (as if you could even get the modern unemployed to carry them, let alone use them), one sees the highly efficient machines of the Caterpillar company and others do what used to be done with a tenth of the labor. You might as well employ people to play checkers or chess-no lawsuits to get started and everyone has a job.

Here is my suggestion, however, and it will be, while pragmatic and practical, about a popular as floaters in a punch bowl. First, one has to capitulate to the idea that bailouts and works projects are going to happen. I have done that. So, what do we then do? Well, the pulp and paper industry (and probably others), at least here in the United States, has a dirty little secret. Many old mills in this country are being operated not because they are profitable, but because shutting them down is more expensive than running them. Why? Because these old sites have tremendous, unrecognized environmental clean-up liabilities. So companies keep running them, pouring unwanted products on the markets as a cost-avoidance scheme that depresses profit margins for all. How many mills are there like this? I'll throw out a startling guess--20% to 50% of all mills older than 40 years. It is a big number.

So, if we must have bailouts, why not put together a program to shut down and clean up these old sites? We can employ the people that now work at the mills and then transition them to new careers as the cleanup winds up. They are the best equipped going in to clean up these sites--they know where "the bodies are buried." They can be trained and transitioned to environmental careers in the process.

In the end, the industrial base that is left will be healthier and old sites will be clean. Where the politicians will have heartburn is that this reduces the long term employment in some manufacturing industries (which is really inevitable anyway). But, it makes sense, don't you agree? If we want to take this further, once this work is well underway here, we could employ these people to go to other places on the earth to clean up other industrial environmental disasters--sort of an environmental "peace corps." That may help the world's opinion of the United States, and, if done properly, would certainly help the planet.

As an aside, my dad, desperate for work in the 1930's, reluctantly joined the WPA. I say reluctantly, for he did not agree with the idea and, even more importantly, the WPA had a widespread reputation for laziness. On the second and last day of his experience, he and another fellow of similar persuasion conspired and managed to fell a tree (with a cross-cut saw) directly across the highway they were working on at about 2 p.m. Well, the whole crew had to work diligently to get the road reopened before quitting time. Dad and his friend were fired for making them work so hard. Orneriness runs in my genes.

For safety this week, let's talk about what you are going to do at home during the holidays. Some gifts are downright dangerous until one becomes familiar with them. I am reminded of a time many years ago, when a person in the neighborhood where I worked bought his son a gun for Christmas. They went outside to shoot it and the son accidentally killed his dad. Although this was close to thirty years ago, I suspect that son has not had a happy Christmas since. Be careful with holiday gifts.

Be safe and we will talk next week.