[Adv.] Edge makes pulpers, too!
Published: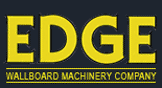 Did you know that Edge makes pulpers and pulper components, too? Edge has a complete line of their own design and makes replacement component for other popular brands.

Contact Edge to learn more about their ability to fill your needs for pulpers as well as paper machine components. And when you talk to Edge, tell them you saw them on Nip Impressions.

Jim

Answer to last week's riddle: A parsec.

Last week's riddle asked: "If something is traveling at 4,863,905 furlongs per second, how far would it travel in a year? Don't use any numbers in your answer."

This week's riddle: 2 trains 900 km apart start traveling towards each other. One is traveling at 100 km/hour, the other at 200 km/hr. As soon as the trains depart, a mutant mosquito rises above the slower train and flies above the rail towards the oncoming train at 357.15 km/hour. When it reaches the faster train, it (instantaneously) turns around and heads back towards the slower train. It repeats the trek from one train to the other until the trains crash together, squishing the mosquito. What distance did the mosquito travel before its untimely demise?


Comment