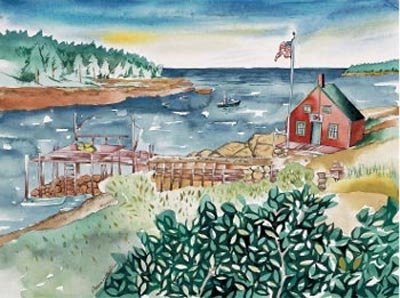 Dear Readers,

This is an unusual second page feature for us. This spot is usually an advertisement for one of our great sponsors. However, this week, given the season of the year, I thought it appropriate to feature an organization that I think is extraordinary. This organization is the Mouth and Foot Painting Artists (mfpa). You can find their website by clicking on the image above (painted by one of their artists) or "More" below.

The mfpa is an organization of artists that have lost the use of their arms, either through birth defect or accident, and paint for a living. They use either their mouth or their feet to hold the paintbrush. They do extraordinary work.

What I really like about this group is that these are not a bunch of people sitting around feeling sorry for themselves, for although if there ever was a group that perhaps could justify doing so, they are it. Instead, they paint, in the manner mentioned above, selling cards, notepaper, gift wrap, jigsaw puzzles, children's books and so forth decorated with imprints of their work. This is how they make a living. I get a tear in my eye every time I think about these great people.

Of course, an additional benefit of this whole matter is that these people use their talents and paper goods our industry manufactures to make a nice value-added product for the retail market. What a wonderful relationship!

So, no one asked me to do this, and I am not asking you necessarily to do anything. But, if you see your way clear to use their products, I think you will be supporting a great cause.

As a matter of disclosure, once you get on their mailing list, about every six months or so, they will send you a few cards unsolicited and ask you to pay for them. I wanted to tell you this so you are aware of how they work to keep themselves in your mind. I personally don't mind this, and always pay for these unsolicited cards, but in between times, I buy many, many more.

Regards,

Jim

Answer to last week's riddle: The transatlantic cruise ship Queen Elizabeth 2, which will soon be re-deployed as a floating hotel in Dubai.

Last week's riddle asked: "What accommodation, soon to be retired, included a tennis court, a driving range, a Harrods department store, and a staff of over a thousand, including 10 "gentlemen hosts" to escort unaccompanied women? "

This week's riddle:

If something is traveling at 4,863,905 furlongs per second, how far would it travel in a year? Don't use any numbers in your answer.