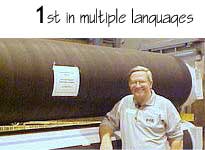 Week of 3 Nov 08

Click here, then click "Trans lator" in top navigation bar for other languages.


Occasionally, I am asked a question similar to the one that is our title this week. First, let me say, I doubt that it makes much difference who I support or where my loyalties lie in the pulp and paper industry--anyone asking me such a question far overstates my value to or influence upon the industry. However, once in a while, it is probably good to answer such esoteric and theoretical questions, for the purpose of clearing one's own thinking if nothing else.

My focus and loyalty is towards the energetic people that make up the ranks of this industry. They may be proprietors, managers, pulper operators, maintenance people, government relations professionals, academics, environmental engineers, boiler operators, equipment manufacturers or janitors. For first of all, I continue to believe this is a great and important industry of vital necessity to modern society. And secondly, this industry has proven time and again it can provide excellent jobs to those that engage themselves energetically, no matter their station in life, to produce products made from cellulose wanted and needed according to the laws of macro-economics. So, if you ask who I support, I support anyone in our industry that makes this possible.

Now, in the next breath, I have to tell you, and if you have been reading me for a long time you know, this support is a "tough love" for I have little use for enterprises artificially propped up and sustained by anything other than the hard and perfect laws of economics. This means keeping mills open which have outlived their useful lives is a flawed logic and they must go away. This means artificially supporting mills or whole industry sectors that make products no longer needed or desired is not worthwhile. This means propping up the industry with tariffs and subsidies are "no-no's" in my book. For in any industry, artificial (read: politically produced) economic conditions will ultimately disappear. I say it is better to take the bitter medicine now and move on to something really productive than it is to limp along in an economically false world, wasting someone's money (stockholders, lenders or taxpayers), and which will soon die anyway.

Having said the above, however, one has to also state the following. One must recognize that a successful industry means an industry where, as time goes by, it takes less and less human effort per ton of product produced. This is improved productivity. It goes on forever, at least as far as we know. For an industry that is not improving its productivity will price itself out of markets. Ever since the Luddites smashed the looms, it has been true that productivity improvement, in successful industries, marches forward relentlessly. This is why it is important to continuously find and open new markets and create new products. In order to just stand still on the employment front, we must be continuously growing our business. This principle makes ideas such as the biorefinery interesting, for although I have sharply criticized this one in particular in other venues, my negativism is really about the way others are proposing implementing and the grandiose promises of quick success they are suggesting than the idea itself. To finish this side thought, I think biorefineries will happen, but they will be greenfield stand alone (not connected to an existing pulp mill) and are about twenty years out on the time horizon.

I also believe in a pulp and paper "populism" of sorts. I see no distinction between employees that work for pulp and paper manufacturers or suppliers to those manufacturers, be those suppliers of chemicals, clothing, machinery, clay, services or anything else of which you can think. In fact, the suppliers, if anything, are in a tougher position than the basic manufacturers for they are depending on the management of the pulp and paper companies to make the right decisions to keep the producers viable. In the long run, I think the continuous short term maltreatment of some suppliers has caused them to give up on the industry, go elsewhere and reduce the competitive offerings available to the basic pulp and paper manufacturers. In many ways, suppliers in some areas have been fighting a war of attrition, hoping to be the last one standing so they can charge the mills whatever they please. This is not good for the mills or the industry as a whole. Thus, over the years, I have had little use for organizations that attempt to make a distinction between employees of suppliers and employees of basic pulp and paper manufacturers. We are all in this together.

In the second paragraph above, I used only one adjective to qualify the people I support: energetic. I have no use for the lazy, the narcissistic, or the corrupt. We have many mills and supplier organizations that have some of these types in them and they are a cancer on us all--rotten apples tainting the whole barrel. However, let me make a further distinction and say that we do have room for the infirm and limited skills people that are energetic. We have plenty of good jobs they can do. And, it goes without saying that in the modern world, there is no room for prejudices amongst the human beings we work with each day.

I think there is a special place for the dreamers and the creative. The pulp and paper industry can afford only a few of these (again, as long as they are energetic) and they are vital to moving the industry forward. Stated another way, we cannot afford to be without a few dreaming and creative types, for they are our path to the future.

Again, my influence is tiny to non-existent, but you now have in one place my statement of loyalty to our great industry. I hope you readers will keep me on the straight and narrow in the future should you think I am straying from this.

Loyalty to our employees is why we talk about safety each week. Our hardworking, energetic employees deserve safe working conditions, but also must accept their own portion of the responsibility for them.

Be safe and we will talk next week.