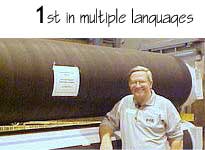 Week of 27 Oct 08

Click here, then click "Trans lator" in top navigation bar for other languages.



As a boy, I recall along about mid-August my mother and I would walk uptown to the bookstore and pick up a packet of materials I would need for school. I guess she found out in the newspaper what this was and when it would be available. In this collection, along with a couple of goldenrod writing pads and some number 2 pencils, was a predictable item, printed on newsprint, called "The Think and Do Workbook." It was part of our language education. These were available by appropriate year of school and supplemented a textbook which was provided in the classroom.

Last week we talked about "Do the right thing" which apparently resonated with a number of readers (see letters below). This week, we'll expand this to "Think and do the right thing." There are two elements of importance this title lends us.

IBM achieved fame at one time by having the slogan "Think" plastered all over the place. Often, as in examples I mentioned last week, the slide down the slippery slope of wrong-headed actions is a lack of unambiguous thinking. Those caught up in and overwhelmed by greed are often not thinking clearly. For even if they don't have enough conscience to avoid greedy and destructive actions, they often have so much hubris to think they won't be caught and punished. Look at all the famous people that have done time in prison simply because they let their greed get in the way of their clear thinking. By the way, probably the smartest recovery I have ever seen from such a failing is Martha Stewart. She decided to go ahead and start serving her time while her lawyers appealed, so that no matter what the final outcome, she would have this out of her way and she could get on with life. That was a very nice and smart recovery from a major succumbing to greed (and I say this not passing legal judgment on the matter she was found guilty of committing). Thinking is crucial to doing the right thing.

The other thing is, of course, the doing. We have talked about doing the right thing, enough on that already. However, what if you observe others doing the wrong thing? When it comes to criminal matters, the law is quite clear: observing a crime and not doing anything about it is to be complicit in the crime. Yet, when we see the wrong thing being done in a gray area, it is our tendency to not become involved. Society indoctrinates us from a young age that it is taboo to tell on others. As adults, "whistleblowers" are often viewed as those who have an agenda of their own, or those that are too judgmental of others. "Mind your own business," we are told.

Yet, surely there were a number of employees at Enron, for example, that had they thought and done rather than being quiet and run, could have perhaps saved that company, some jobs and tremendous financial losses. Definitely if some had thought and done when it comes to subprime mortgages, the current financial fiasco could have been mitigated, at least to some degree.

So, sometimes we not only have to do the right thing, we have to think about what the right thing is. And, sometimes we must do something when we observe others doing the wrong thing.

We are not afraid to act this way in safety--in fact we are trained to stop others from doing unsafe acts. Intervention is an important part of the safety culture. Perhaps it is just a matter of moving our safety training as pertains to human safety to a new level--safety of (or preservation of) the company for which we work.

Be safe and we will talk next week.