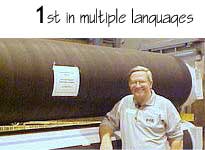 Week of 20 Oct 08

Click here, then click "Trans lator" in top navigation bar for other languages.



To say that we, essentially the whole world, are living in extraordinary times at the moment is not only completely correct, it can probably be agreed that this statement is without hyperbole. Yet, on top of this, I found something even more extraordinary. Here in the US, readers may remember Dennis Kozlowski, the former head of Tyco, convicted of fraud and now serving time in a New York prison. Mr. Kozlowski was famous for, among other expenditures, $5,000 umbrella stands and a lavish birthday party he held for his wife in Italy, all at company expense. Well, from prison, a perhaps contrite Mr. Kozlowski wrote a letter this week to Fox Business Channel expressing how appalled and shocked he is at the shenanigans on Wall Street and elsewhere which have gotten us all into the current financial mess. We must indeed be in a real mess if the likes of Mr. Kozlowski are shocked and appalled.

Born November 16, 1946, Mr. Kozlowski qualifies as a "baby boomer" as does your author. On the whole, I fear, us baby boomers, whose early 1970's slogan was "don't trust anyone over 30", have gotten a number of things wrong. Three things, in particular, have been handled poorly by our generation. First, we were spoiled by our parents and have never really gotten over being spoiled kids. But who can blame our parents? They grew up in the Depression and served in World War II. They wanted better for us and made sure we got it. Second, related to the first, is that we got by without being accountable. Being spoiled, we got a slap on the hand when we did something out of line, such as wreck the family car (no, I didn't do this as a teenager, I saved it for when I was an adult). Third, we often think rules apply to everyone but us. Don't get me wrong--we have gotten a lot of things right, too, but our theme here today is to examine flaws.

The continued existence of civilization is highly dependent on respect for rule of law. Stated another way, there are not enough police officers and military personnel to force everyone to obey laws. The majority of the population has to have an innate feeling of responsibility that obeying laws is the right thing to do.

However, to succeed as a civilization (or a country or a company or a family), we must go beyond respect for rule of law and go to a higher plane--doing the honorable thing at all times and in all places. It is sort of like driving a car--most of us behave differently when followed by a police officer than when not. I know I do. Doing the honorable thing and the right thing is simply like this: driving our metaphorical car of life as if a police officer is behind us all the way.

I guess due to my commentaries, people tell me stories all the time about shady dealings within our industry. The stories I hear are often matters of behavior that are in a gray area--not quite what one might find illegal, but often self-serving and not within any normal bounds of doing one's fiduciary duty. These stories are not rare. Anytime I am at a meeting of industry people I hear two or three.

My wild guess (and it is, granted, easy to look in hindsight) is that hundreds of millions of dollars in earnings and asset value in the pulp and paper industry within just the last ten years have been destroyed by those acting in a less than stellar manner.

So, when no one is looking, I urge you to do the right thing, do the honorable thing. Unless your conscience is completely numb, you'll sleep better, stay out of jail and help your fellow industry peers. These are not bad things to have on your tombstone.

Doing the right thing in safety should not even need a speech or a written column from me. Go to your safety meetings, stay alert and practice good safety every day.

Be safe and we will talk next week.