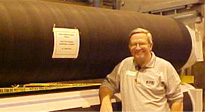 Week of 9 Jul 2007
…because I generally deplore government programs and especially the creation of new ones.

However, I was thinking about three things: (1) last week's column, (2) the widespread shutdown of obsolete mills in the northern tier of US states and Canada, and (3) the predicted coming shortage of skilled workers in the pulp and paper industry in the United States. The coming skill shortage is being addressed to a certain extent by the (npt)2 program (www.npt2.net) but I am suggesting taking these issues further.

Let me be clear: what I am proposing applies both to professionals and operators—I am making no distinction, for both have knowledge sets that are important in order to run a mill effectively.

Background—a model for what I am suggesting here is the "land grant" college system in the United States. This system, well over 100 years old, supplies agricultural expertise on a local basis throughout the country. Every county has an "agricultural extension agent" who is actually on the payroll of the land grant college in a given state. For instance, in Ohio, the state in which I was raised, there are 88 counties and each one has an agricultural extension office staffed by the agent and some other specialists. These people are employees of Ohio State University, the land grant college in Ohio. The purpose of these offices is to disseminate the latest agricultural technology to each and every farmer in their county. If one was starting this system today, one might do it via the Internet, rather than physically locating the agents in each county.

Which brings us to my idea. One problem with remote mill towns that have experienced a loss of the mill is that everyone has to either move or take up flipping hamburgers in order to survive. It is devastating to these isolated little towns. The solution to date has been for local and regional politicians to come up with a pile of taxpayer money and find someone to reopen the mill. A couple of years go by, the mill shuts down again (because it was already obsolete), the taxpayer money is lost, and the cycle repeats: some other carpet bagger comes to town with a story; they rustle up some more government money and do it again. This is not good for the government, the taxpayers, the town, the mill employees or the pulp and paper industry.

What if instead of trying to restart the mill, we had a system like the land grant colleges. For instance, in Maine, this could be the University of Maine at Orono. Call it the pulp and paper grant college. Instead of using the government money to restart a flawed mill in a remote village, put that money in as seed money for an extension service operated by the University of Maine. The university would then go to the mill town, interview and qualify personnel (again, professionals and operators) as "extension agents." However, with the Internet, these extension agents continue to live exactly where they have been living, pumping their income into the local economy. The rest of the story for the University of Maine is that they link up with other "pulp and paper grant" colleges and offer the services of their extension agents, primarily via the Internet, to mills elsewhere needing training and troubleshooting expertise. The pulp and paper grant colleges provide focus, structure, certification and credibility to an otherwise remote and isolated ad hoc collection of expertise.

Now, of course, all the people that were employed by the mill are not going to qualify and all may not want the positions as extension agents. However, for those that can and do, it keeps jobs local, family generations together and so forth. Then there are the great, overarching benefits of breaking the cycle of restarting obsolete mills, wasting money and dashing dreams.

And to think, some of you thought I was just a heartless promoter of robber barons!

If you are recently unemployed or facing some other trauma, do you know you are more likely to have an automobile accident or injure yourself than you would be otherwise? Mental preoccupation with stressful conditions causes us to lose our safety focus.

Be safe and we will talk next week.