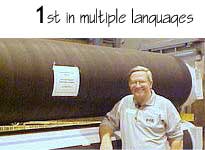 Week of 22 Sept 08

Click here, then click "Trans lator" in top navigation bar for other languages.



When we look at professional sports figures around the world, we often marvel at their pay packages, but seldom do we hear these criticized (unless they fail to perform). However, in almost all other areas of life, we common folk tend to adopt the attitude that senior executives are overpaid. This is wrong and not good for the entities they manage.

According to Mapquest(r), it is 826.03 miles (1,329.4 km) from where I am sitting to Wall Street. Yet, this week, no matter where you are, unless you conduct commerce in seashells or beads, Wall Street is indeed close to home. One of the apparent outrages of the week causing a great deal of heartburn is the outsized pay packages of those in charge. I say the pay packages are not necessarily incorrect, the executives were poor performers. Stated more clearly: in a hypothetical situation where one could do all of this over again, one might pay the same amounts, but they just might be lucky enough and astute enough to hire individuals that can actually perform and merit the pay the positions demand.

This all applies to our own industry as well. We need top level executives and top level executives cost money. This is just the competitive world--good people in business are going to demand high salary packages, just like top athletes.

The usual posture in our industry and others is to be as secretive as possible about this matter. Oh, yes, if one wants to take the time and dig through piles of arcane documents, they can find such data for public companies, but it is a task beyond the means and patience of the normal factory worker. My proposal is this: top executives should openly post their entire pay packages for all to see, and, as a service to their stockholders and employees, post like competitive executives' pay packages as well. Here's the rub: Next to their total compensation number, they should post the results of their firm (and likewise for their competitors). Then we could see if we are getting what we pay for.

Of course, this is all a dream, but it is what is necessary if we want to dispel the myths and misunderstandings about our executives. In fact, I am going to put this idea on the "to do" list of items we may want to pursue as new features in PaperMoney(r). A transparent view of executive performance will no doubt improve same.

While I am on this topic, I'll delve into some really off topic and dangerous waters: politics and religion. I think we often get the abysmally low level of general politician performance because we do not pay enough for the positions held. These are often, especially on the higher levels, executive positions yet we pay them very low salaries. It would take a person of extraordinary altruistic and patriotic convictions to give up a zillion dollar position running a major corporation in order to be a government official, elected or appointed. We get what we deserve for the poor pay we offer (reminder: some polls place the current approval rating of the US Congress at 9% or lower). For proof one only has to look at police officers around the world. Generally, I think one can say the areas of most corruption are where police officers are paid only tiny salaries compared to the local general population. Give officers a real reason to stay officers and they will not risk becoming involved in corruption.

In the area of religion, staying on the same theme, I have always been a proponent of posting everyone's donations in the foyer (sometimes called the narthex) of the church. This would no doubt improve the balance of the coffers there. Of course, no one has ever taken me up on this idea.

Well, we have covered some theoretical and not likely to be adopted soon ideas this week. I do think, however, this is one place where we could learn a great lesson and improve many aspects of the human condition with the transparency we see in professional sports.

Thank goodness, most have adopted an attitude of complete transparency when it comes to safety. And this is well and good, for in this transparency we learn many lessons, preventing future accidents.

Be safe and we will talk next week.