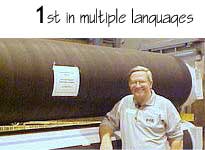 Week of 15 Sept 08

Click here, then click "Trans lator" in top navigation bar for other languages.



When I was in the 6th grade, in the spring of 1962, at Kyle Elementary School in Troy, Ohio, our principal and mathematics teacher, Mr. Raymond P. Daniels, told us that it was impossible for humans to mentally visualize more than four objects at once. He told us to do the following thought experiment: visualize one owl on a branch, then two and so on. He said that we could easily visualize four, but when it came to five, our brains would group them as three, then a space, and two. This is one of the many pieces of trivia that has bounced around in my cranium for obviously a very long time. (Really useless information: our school, Kyle, was named for a union officer killed in the battle at Shiloh, Tennessee almost exactly 100 years before the Daniels' visualization).

When it comes to our work associations, we also operate in small groups. In fact, I don't care what your rank is in your organization, nor even how big your organization is, I'll bet you regularly interact with only six to ten people on a daily basis. It is outside your comfort zone to deal with any more than this habitually. In other words, at the executive office level or at the janitorial level, your coterie is small, familiar and contented. This is very dangerous, for it fosters a fortress mentality.

It has been observed, but not understood, that when ovulating-age human females are organized in a close knit group for a length of time (say a military brigade or an all girls' school), their menstrual cycles tend to move into synch with one another. To my knowledge, this phenomenon has still not been explained, although it has been verified many times. All snickering and giggling aside, I seriously see this as an interesting parallel to the situation which is the thesis of this column.

A great book that tangentially approaches this subject is "A Confederacy of Dunces" by John Kennedy Toole (sadly, published posthumously after Mr. Toole committed suicide). This beautiful work of fiction chronicles a group of what one might charitably call "eclectic" people in New Orleans in mid-twentieth century.

Small group lunacy occurs more often than we realize. This close coterie with which we associate each day gradually develops nearly identical outlooks, opinions, and responses. They begin to believe they hold the truth and others outside the group do not. Opinions from the outside world are observed and synchronously criticized without thinking. The phenomenon of "group think" takes over, resulting in reality and rational observation being placed in jeopardy.

The world saw a case of "group think" turned upside down recently when one of the US presidential candidates chose an unconvential running mate. I believe much of the uproar can be attributed to the choice being outside the conventional wisdom of those preceived to be "in the know" regardless of their own loyalties. In this case, the group engaged in "group think" was very large indeed, orders of magnitude larger than the size I am discussing here.

This has been much studied in places such as airplane cockpits, ship bridges, and other such critical groups, especially when the "group think" approach has led to tragedy. From casual observation, I think I can easily make the case it happens in companies, too. The results can be just as tragic, although most likely in a financial or employment sense. One could even argue without much of a stretch that it has occurred in whole grades of paper (such as newsprint).

So how, do you combat this dangerous phenomenon in your company? There are several approaches that may work. The first one is to move people around regularly and randomly. Don't let small groups develop extremely long term alliances. Another way is to invite outsiders in to offer opinions--and make it a rule that their opinions must not be dismissed out of hand.

It will be hard for you to fight small group lunacy, for humans enjoy the comfort that small, familiar groups provide. I recently participated in a survey for a major polling group that allowed one to look at the results when they were done. Something like 57% of the respondents considered comfort and a lack change to be very important, desirable attributes in their lives. Fighting this is paramount to moving your company forward at all levels.

In the area of safety, group think is just as dangerous as it is in the cockpit of an airplane. We must continually challenge the status quo if we expect to be safe.

Be safe and we will talk next week.