[Adv.] Edge
Published: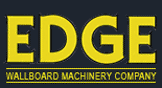 This week, we want to remind you of our fine friends at Edge Wallboard Machinery Company. In business since 1956, the words "Wallboard Machinery" in their name at first described all they did. Soon, however, their fine reputation caused papermakers in need of superior components value-priced to seek them out. The rest, as they say, is history.

Contact Edge to learn more about their ability to fill your needs for paper machine components. And when you talk to Edge, tell them you saw them on Nip Impressions.

Jim

Answer to last week's riddle: Paul Erdos. Just as Kevin Bacon is the tongue-in-cheek link between all of Hollywood, Erdos is a link between just about everyone in the math world. http://www.oakland.edu/enp/

Last week's riddle asked: "Who is the 'Kevin Bacon' of mathematics?"

Jeff Reese of Cincinnati, Ohio, came up with the answer in minutes.

This week's riddle: Find a three digit number between 701 and 798 and a two digit number between 40 and 49 such that the mathematical sentence 7XX * 4X = XXXXX contains every digit 0 through 9 exactly once.


Comment