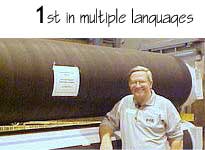 Week of 25 Aug 08

Click here, then click "Trans lator" in top navigation bar for other languages.



No matter how much formal education you have acquired, there is one forum that stands above all others in importance. It is one in which you participate first as a receiver, and then, later, if you have children, as a provider. It is the forum of the family dinner table--a forum that I fear is disappearing these days.

For around the dinner table, where children are hearing adults talking about the day, and then participating as they get older, reside many lessons. Children's opinions of the outside world are formed here, as well as their perspective on many matters, from life to relationships to work.

A friend and I were talking about this recently, and I posited that, for someone aspiring to a career in management, having sat around a dinner table where one or both of the parents were managers provided a ten to fifteen year career head start over those that may have been reared in another environment. Of course, it is important to quickly say that a career in management, especially senior management, is not the be all and end all to life--many people have very satisfying careers without such opportunities. Yet, it is important to note that the dinner table provides many clues about life's experiences, good and bad.

One of the things I remember as a child was my dad lamenting that in his department (he was the foreman [correct term in those days] over a division in a manufacturing company) he could get little capital for new equipment. He always got everyone else's cast offs which he then rebuilt to work manufacturing the task at hand. He saw this as a condemnation by upper management, and, at the time, I did, too (tonal inflection, i.e., whining, is a strong key to forming management opinions in five year olds). Yet, in my own career, reflecting back on these conversations, it appears to me that what my father really received by the action of his superiors was a compliment of the highest order--he could meet production requirements with less capital than anyone else in the company. Talk about job security!

The important thing to note here is that it took decades for me to come to this conclusion, and hence reversal of opinion, from the management meetings (family dinners) I attended when I was five years old. And herein lies the double-edged lesson for you. You undoubtedly make decisions daily, perhaps subconsciously, based on the lessons you learned as a child at your family's "management meetings." Can you think hard about these and discern what they are as you go about your daily tasks? Can you discern which of these lessons are helping you and which are destructive? If you can, you will be a better person for it, regardless of your career aspirations.

Then the other edge. What lessons are you conveying to your offspring? What are they learning from you, at your dinner table, which will affect them, positively or negatively, for their whole adult life? Are you careful about the lessons you teach through casual conversation? Do you treat this forum with the important respect it deserves? You are building your children's character, one spoonful of beans at a time.

Safety lessons are learned the same way. If there is a safety incident at work, do not be reticent about sharing it with your children, especially the learnings from it. Of course, some incidents (I hope not) can be too graphic for tender young ears, but you can tone those down and still get the message across.

Be safe and we will talk next week.