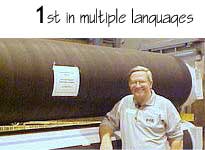 Week of 18 Aug 08

Click here, then click "Trans lator" in top navigation bar for other languages.



The pundits of 1910, despite the Schlieffen Plan, despite the arms race in dreadnought class warship construction, concluded that a war in Europe was almost impossible. Why? It was believed that important interlinking trade treaties (plus the fact that most of the royal leaders of the major European countries were cousins), made such a possibility unthinkable. There was just too much to lose in commerce and trade for anyone to think of paying the high price of a war for any reason.

Well, as we now know, one bullet through the body of one individual, wearing a funny feathered fedora, whose driver had made a wrong turn and was on the wrong street, and, actually would not have even been in that town had he (the victim) followed the advice of his trusted advisors, obliterated all the pundits' "wisdom." Not only was all the conventional wisdom of the day figuratively and literally blown up, most world events, nearly everywhere in the ensuing 94 years, can be linked to that bullet. The heck with interlinking commercial treaties.

In the past ten years, particularly in the United States and primarily due to tax incentives (or disincentives, depending on your viewpoint), the pulp and paper industry has wholesale shed its most important asset: trees. On a world wide basis, our industry has developed the mindset that we can purchase all of our raw materials and energy sources from those that know best how to manage them, run these materials through mills of nearly identical technology (in any given grade) and make indistinguishable products at a respectable profit. What foolishness!

In fact, this foolishness is further reinforced when one examines the cost components of delivering a non-unique product to an end use customer. If my back-of-the-envelope scribblings are anywhere close to being correct, the cost of that product controlled by the actual processes (including the energy consumed by those processes) within a paper mill are less than 20% of the final selling price. In other words, a 5% improvement in the cost of all things papermakers control (not counting the cost of purchased raw materials) can only affect the end selling price (or profit margin, if one can sustain the selling price) by 1%. What foolishness indeed!

In order to be competitive, one has to have a competitive feature. This seems like a simple idea, but apparently it is lost on many in the executive ranks of our industry. To repeat, you must have something with which to compete, some unique feature in raw materials, energy, additives, manufacturing, product features, or distribution. Everyone can not do everything the same way and expect to earn extraordinary profit margins. The greatest visible example of an industry where the majority of players follow this strategy to their own detriment is the airline industry. This is an industry where your competitive advantage today is that you hand out (lend) free pillows and blankets to your customers!

The reality, in fact, is that if everyone in the same grade does everything the same way, not only can they not earn extraordinary profit margins, they can not even earn acceptable profit margins. Players in an industry must have unique features, whether they be on the cost side or the customer feature side, in order to succeed for the long term.

It seems to me that the quickest and most economical way to become unique is in the customer feature area, adopting the ideas of the tissue manufacturers. Particularly in the printing and writing grades (and especially photo paper and standalone printer paper) there appears to be an opportunity to take one's message directly to the end user. Yet, no one seems the least bit interested in doing this, despite the fifty years of success tissue manufacturers have experienced following this path.

I have the belief, however, that some company will do exactly this and set the industry on its ear. For this is what happened in tissue--an interloper came to the market and made a uniquely feature product with distinguishable (to the consumer) claims. It can happen again.

In the meantime, find some way to make your raw material acquisition, production process or product unique. A little advantage can go a long way. It could be your "If only..." answer that I spoke of last week.

And keep your safety program unique, too. An always fresh safety program is one that works.

Be safe and we will talk next week.