[Adv.] OpTest's OpTiSurf
Published: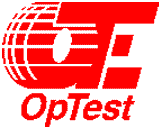 OpTest's "OpTiSurf" is indeed a new way to measure surface roughness. According to OpTest, "The OpTiSurf revolutionizes the measurement of surface roughness of paper. Using advanced optics and algorithms, it quickly quantifies the optical roughness of entire sheets. OpTiSurf correlates with traditional air leak tests but has greater precision and speed, with less maintenance." And I would emphasize that no air is required. I suggest you look at it today--just click on "More" below.

And when you talk to OpTest, please say hello for us here at Nip Impressions.

Regards,

Jim



Answer to last week's riddle: At the tips of my fingers. Islands, loops, dots, along with arches, whorls, ridges, and forks are distinguishing features of fingerprints.

The riddle last week asked: "I keep my islands, my loops, and my dots close at hand. Where are they? "


This week's riddle: What Medal of Honor winner has a town named after him near Yellowstone National Park?



Comment