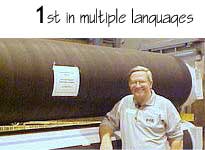 Week of 4 Aug 08

Click here, then click "Trans lator" in top navigation bar for other languages.



This column is going to perhaps sound like, as we say here in the US, "sour grapes" but I think it has to be said.

When it comes to scholarly articles, we are all quite familiar with the tried and true cross examination method of "peer review." However, when it comes to plain old trade and association magazine articles, no such thing exists. In fact, there is no such thing as background checking for such articles, at least not any of which I am aware.

Here at Paperitalo Publications(TM) (a new name we are introducing to describe our family of publications: Nip Impressions, PaperMoney, Capital Arguments, and The Thompson Private Letter) at least we know where our information comes from and we strive very diligently to provide honest and verifiable material (Hey, my name is on this stuff). If it is from other sources, as much of PaperMoney is, we so indicate or it is so obvious that we do not have to do so. It is called journalistic integrity.

Yet, in some other industry publications, I often wonder what in the world is going on. Do these people think we are stupid? One hardly needs do any background work on some of these articles to know that, at the very least, more background work is needed. In other cases, where I don't think I am particularly knowledgeable of the circumstances, one finds stories and propositions that are remarkably, incredibly without credence. Such stories range from the "scientific" (needs to be in quotes unless the authors want their work judged against that of alchemists of old) to management where "great" touchy-feely managers are lauded while anyone with any kind of an ear to the ground knows people are running screaming from the building at the very enterprises they manage.

Now, in some areas, there are articles and reports on matters that can best be identified as experimental. And this conflicts me, for I believe we must experiment and try new things--long term readers know I believe this to be important. However, such matters are often not identified as such. Perhaps their sponsors are concerned that such identification would result in loss of funding or other support, I don't know. But it seems to be to be a bit disingenuous to present as fact something that we know is not--at least not yet. Don't get me wrong, I am cheering for such things to win, but when I go to a ball game, I don't brag about my team winning the game until they do.

In the 1990's, I was heavily involved on Wall Street in the financing of recycling projects. Some I worked on as a proponent, on others I was asked to provide forensic consulting when they failed. One of the most interesting was when a bank asked me to go look at a project that had been built and was not running. When I came back to their offices, they asked me, "Well, did it look to you like they invested xx millions of dollars there?" I said, "Yes, indeed it does." The bankers smiled. Then I said, "But you have asked me the wrong question. The correct question is, 'What is it worth today?' to which the answer is scrap value." As you can imagine, they were not happy, even though it was mostly stainless steel.

Some of the schemes being floated and written about today may need to be done for the greater good of advancing our knowledge. However, it will not be long before the investment in them, I fear, will be nothing but scrap value.

So, who cares? I know the readership in our industry is smarter than some of the authors give them credit. So, when someone reads a sampling of these miracle or fantasy articles foisted on them as fact, they do the natural thing--become cynical. This cynicism is a contagion that then spreads throughout their place of work, one person at a time. Pretty soon it spreads throughout the industry. And just beyond that phase, everyone starts making things up when the facts are not convenient. And then, we all go out of business, for our business becomes one based on fairy tales.

All I can say is, we are going to continue to tell the truth as we see it. I am going to try to find ways to do more background checking so you can continue to be assured that we are doing the best possible job in the industry of bringing you good data. In other words, we actually want to earn and keep your respect so that when you read something from us, you are confident you have the best information possible.

This, of course, runs a financial risk for us, for Paperitalo Publications depends on advertising revenues in order to survive and thrive. If advertisers think the frankness of our discussions here cause them problems, they won't be here. But when it comes to truth versus money, I don't have a problem--we'll stick to the truth. And, dear readers, if we miss the point or the truth occasionally (we are not perfect) we will continue to be open and transparent to your criticisms.

By the way, I operate to the same principles in our consulting business. Take for instance last week--we had a Request for Proposal for a specific project. After others and I had spent considerable time trying to see how we could respond, we declined. We concluded that a response, which we surely could have made and won (and made a nice profit doing), would have resulted in a conclusion worthless to the prospect.

To run a good safety program, you need the best information possible, too. Are you sure the safety data you gather from your departments is accurate and factual?

Special safety note: QUIT KILLING OUR WORKERS. As I was sitting looking at the computer this past Tuesday evening, here comes the sad news of three fatalities at PCA's Tomahawk, Wisconsin mill. Add to that the fatality at IP Vicksburg this past spring and it has been a very bad year indeed in the North American pulp and paper industry. Who is killing our workers? Probably an attitude of inattention to details on the part of many. The conditions we work under can be dangerous and we are all responsible for keeping our attitude correct and our attention high at all times.

Please--be safe and we will talk next week.