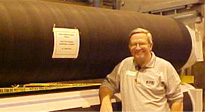 Week of 18 Jun 2007
Recently I have seen a number of cases of lack of human energy. Having not discussed this in a long time, perhaps it is time once again to bring forth this topic. It is a topic that tends to offend many, for they do not like to be singled out as lazy or unenergetic.
To assuage the embarrassment of the truly guilty, let me say that we all are struck by this at one time or another. However, we must admit that we know some who are in a permanent rut. So, who to blame? What to do? If we want a large and wide ranging place to plant the guilt (other than ourselves) perhaps we should blame the Industrial Revolution. In the developed countries most of us have sedentary workplaces. Even the farmers are now riding tractors with air conditioned cabs, full entertainment systems and on-board wireless computers. As an aside, the Minneapolis Moline company tried to sell a tractor in the late 1930's, early 1940's with a full cab and heat--it was a flop because farmers did not think it "manly" to ride in such comfort.
The sedentary workplace, in this writer's opinion, has made us generally lethargic, not only physically but mentally as well. Quick, how often do you experience a slight tinge of laziness as you have to look for a file on your computer by moving the mouse around? Intellectually, this is silly, of course, but unless you are much different than I you have had this experience more than once. After all, how many calories does it take to move a mouse 10 cm?
Taken a step further, how many pieces of paper have been on your desk for over 3 months and are truly just shuffled around? When was the last time you thoroughly cleaned out every desk drawer and reorganized the messes you have there (assuming you have the typical messy desk)? These activities are not big calorie consumers. They don't get done because we are mentally lazy, or perhaps numb is a better word.
I have seen many people over the years try myriad time management systems. I think scheduling resources, calendars and so forth are a personal selection choice. I also think changing systems on a rapid turnover basis indicates not a fault with the systems but some disconnect in the grey matter between our ears.
So, stamp out human laziness, starting with your own. Take a walk at lunch time. Walk up stairs, don't take elevators. Getting the blood flowing through physical exercise will get the mental game back in shape, too. Moving that mouse across the desk will seem far less formidable.
How many accidents are caused by laziness? You will find that many contain some aspect of it. Stamping out laziness will help your safety record. Be safe and we will talk next week.