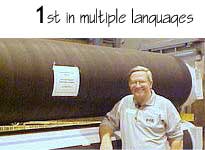 Week of 14 Jul 08

Click here, then click "Trans lator" in top navigation bar for other languages.



Modernizing the pulp and paper industry involves modernizing our thinking. Let's start with the area in which we seem to have the most difficulty: modernizing our communications.

This reminds me of the milk carton battles of the 1970's and the paper sack battles of the 1980's. As these two paper industry products were replaced with petroleum products, we got all huffy, and ran campaigns to promote use of the paper based versions of both. These campaigns did not work, for the vast majority of the public chose convenience and economy over preserving an old mainline product. Fifty thousand concerned activist in the pulp and paper industry could not turn the tide against millions who did not care about legacy products.

The fax machine is where we started losing the printing and writing paper business, and the way it happened was a bit sneaky. The beginning of the loss was degradation in preferred grades: lawyers started faxing instead of using cotton content paper to mail correspondence to their clients. Cotton content papers declined, copy paper increased. The cotton linters pulp business turned upside down and mills were closed. This happened only fifteen years ago. Most of the pulp and paper industry paid no attention to this early warning signal, for the volumes were relatively low (albeit quite high margins).

But the fax machine was a toy compared to what was coming: the Internet and Email. It is no surprise to anyone to say the Internet and Email have turned communications on their head. Yet, as an industry, it appears we continue to think the old ways of communicating, sending a letter, circular, or newspaper, will somehow prevail. News flash: they are as dead as the paper grocery sack.

How people, particularly in our industry, are adapting to these new methods, now over a decade old, is at the same time amusing and frustrating. From where I sit, I can vigorously confirm that adaptation is purely a mental age issue. For instance, two of my most vigorous and regular correspondents via email are octogenarians. Some of the most reluctant and resistant are in their 40's and 50's. I think this is because these people, particularly the ones in the pulp and paper industry, have finally achieved their career goals in life, only to see, if they are in the printing and writing grades, their businesses becoming much less relevant than they were ten or fifteen years ago. In the process, in their stubbornness to resist adaptation, they are not helping their business keep up with the information flow of the times.

On the recipient end of email or as a user of the Internet, I have written in this column before how easy it is to economically filter email so that one gets only what one wants. Yet, I still see many people completely baffled and frustrated by this process. Using the Internet to find what one wants is also easy, yet I hear of many cases of frustration. I suspect the frustration in both these issues can be eliminated by a week of concentrated self-training. In fact, I am sure this is what my octogenarian correspondents have done, for I never hear a complaint from them about these matters. And before you say they have more time than you do, I can tell you both of them work vigorous schedules and are a challenge to keep pace with.

As an example, just this week I received a fax from a person that wanted to "opt-out" of Nip Impressions. I suspect they are in the stubborn and unwilling to learn category, not because they did not want to receive NI, but because they used a fax to tell me so.

The other thing I see people continue to do is arrange face-to-face meetings that are extremely expensive and unnecessary. Watching these from several points of view, my only conclusion is that the organizers just like to get together, the heck with costs. One of the most ineffective I have seen this year involved an effort to send out mailed invitations, the result of which was a less than 1/4 of 1% attendance response at a cost to the organizer (forget the attendees' costs) of, I'll bet, $500 a head for a gathering that lasted less than an hour and accomplished nothing. Yet the organizer seemed quite pleased with the outcome. I don't have to worry about offending said organizer here, for I think this person barely bothers to read email. In contrast, we here at Nip Impressions, PaperMoney et al reach thousands monthly with a miniscule distribution cost on either ours or the recipent's accounts.

We have many challenges as we modernize our industry. Let me repeat from the opening of this column. The first one is a recognition of need and a desire to do so. The second is to take the issues we must work on and tackle them one at a time. A good place to start is communications with ourselves and the outside world. We cannot expect to maintain any relevance and viability until we do so.

In the area of safety, the Internet is a wonderful marketplace of goods and services needed to conduct an effective safety program. I suggest you use it.

Be safe and we will talk next week.