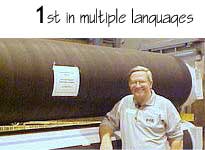 Week of 7 Jul 08

Click here, then click "Trans lator" in top navigation bar for other languages.




What happens when a truck (lorry) driver has too many wrecks? They get fired and are banished from the business.

Why doesn't this happen to people who crash pulp and paper companies? Some of these characters keep reappearing and keep getting hired as consultants. Others are allowed to assume leadership positions. The huddled masses of the industry look on them with unquestioning awe.

One of my readers accused me recently of becoming too provincial and US-centric in my columns. Sorry. I wish I could say the problem above is a US problem, but it, unfortunately, is a worldwide one. I am not being US-centric here.

Another reader recently said I was becoming grumpy. Sorry for that, too. My thinking recently has been focused on missed opportunities and dunderheaded decisions. I'll get off of it, soon, I am sure, for I continue to believe this is a great and important industry worldwide.

If you are in a position of hiring consultants or appointing leaders, please, do your due diligence on them. They are not validated just because they wear a cape, for it just could be they sewed it themselves.

I am certainly not going to "out" the good or the bad (in my opinion) here. Not only might I be wrong, I might be sued! However, I want to provide and encourage you to use a process when you select one of these senior people for an assignment or an appointment. Don't automatically assume they have actually done great things.

Some of the self-aggrandizing personalities out there are truly astounding. It is like another senior colleague, in talking to me, described a third person we both know. "---- has the amazing ability to run out the back door as the sheriff is coming in the front, and then, he goes and gets another job more prestigious and higher paying than the last one. And he has done this time and again!" Now, this colorful metaphor was not intended to actually accuse anyone of criminal activity, but it does paint a wonderful picture of what I am talking about here.

From personal experience, I can tell you the following. Over a number of years, I have had the opportunity to visit several idled mills that once belonged to a company considered a prestigious leader in the pulp and paper industry. Taken as a whole, the individual strategies of these mills, as apparent from actual visits, collectively made an incoherent mess. Someone was responsible for this. No wonder this company was bought out, not for its production facilities, but for its markets. Yet, former leaders of this company are wandering around and giving advice (for a fee, of course) to many audiences that look at them with dropped jaw awe.

Now, all of this is not to say there are not very good people, in retirement and very vigorous, which are not full of wisdom and deserve, indeed are needed, to be heard. The frauds and imposters I am talking about are a relatively small, but vocal group.

So, finally, we get to the process of vetting anyone appearing at your doorstep and seeking to bestow wisdom upon you in any form. Please ask them the following:

1. Show me when, where and how you have made money for your employers or clients.
2. Show me where you have taken personal prestige and financial risks. What were the outcomes?
3. Yes, I know you are famous, but humor me and provide me with 3 current references anyway.
4. What specifically are you going to do for us? What risks are you willing to take?

That ought to be enough. Except, of course, ask them if they have ever been injured in an accident, at work or somewhere else. Safety is always important.

Be safe and we will talk next week.