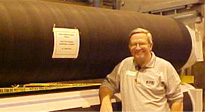 Week of 11 Jun 2007



Laura came home from the store the other day after buying some envelopes with an observation. She noted that this was the first time that the store was exclusively stocking envelopes made in another country as opposed to those made domestically. Now, who knows how this happened—perhaps the domestic source lost a round of bidding after being comfortable for a number of years or perhaps the off-shore source can make them and hence sell them less expensively. Some may say the off-shore envelopes were "dumped" on our shores. I know I have no way of knowing.

However, there are other competitive forces at work in the printing and writing grades. Take, for instance, resumes or C.V.'s. It was not long ago that it was mandatory that these be typeset and printed on high quality cotton-content paper. Now, major companies expect and want resumes to be submitted on-line, perhaps as a PDF file. No paper required or even wanted, irrespective of quality.

Recently, especially with the latest postal increase here in the United States, I have noticed another trend, currently prevalent amongst entities from which one expects monthly or quarterly statements. By illustration, I will use a tiny retirement account from long ago. Up until recently, they charged a fee of USD 10.00 per year for "maintenance" of this account. Just a few weeks ago, we got a letter from the investment company stating that the fee would soon jump to USD 20.00 per year—but with a catch. If one would sign up for electronic-only statements the fee is zero, nil, nada. Other, similar "offers" are crossing my desk: electronic statements cost nothing; you will be "fined" if you want a paper statement mailed to you.

What has happened is that companies that mail out tens of thousands or hundreds of thousands statements each month have carefully assessed the cost of the printed statements and found them to no longer be cost effective ways to deliver mundane information. If you are a printing and writing papermaker, you no longer are simply competing against other papermakers. You now have the added burden assigned to you of inventory costs, printers, print ink, building costs to house printers and inventory, postage, and, finally, the personnel necessary to maintain and load the printers, envelope stuffing machines and so forth. No, you are not competing against other papermakers; you are competing against electronic storage media, CPU runtime costs, software, and delivery via the Internet. And since everything in the last sentence but the Internet is needed to print statements anyway, you are essentially competing against "free."

The first time we saw an out-of-strata competition of wide ranging publicity was the plastic grocery sack. This sack nearly put the paper bag, long the stalwart carrying device, out of business. In recent years, however, environmental concerns have brought back the paper bag in places, such as San Francisco, with a high sensitivity to perceived environmental detriments, such as the plastic grocery bag.

Long term, as I have said many times before, the strength of paper is in its physical attributes: packaging and shipping containers; and sanitary products. This latest wave as I have described above, is just another step down this path.

However, all is not lost for the printing and writing grades, especially those known as specialties. It was not casually that a couple of paragraphs up in this column I mentioned delivery of "mundane information." The advertising business still finds paper, especially high quality paper with unique properties, a requirement for message delivery. In fact, the higher the price of retail products (perfumes, jewelry, exotic vacations, luxury automobiles), the more necessary seems specialized brochures and other selling aids. As one looks to the development of a gentry class in both China and India, one can expect a burgeoning market in high end retail products, and hence selling aids, on a world wide basis.

And even for the commodity printing and writing papers, there is some hope. For for every statement that is delivered electronically, most will want to print out a paper copy at home. The challenge is to brand these commodity grades at the retail level. As an industry our efforts to do this have been dismal at best, most likely because we have not employed real brand managers and given them the budgets to do their jobs. It is not that mundane commodities have not been branded effectively before. Look at clothes washing soaps and detergents. One hundred and fifty years ago, nearly everyone everywhere made laundry soap at home (even royalty—they just happened to have servants to do the actual "manufacturing"). Today, laundry soaps are well-known branded products, with this one purporting these attributes, and that one purporting those attributes and so forth. The big three, Procter & Gamble, Colgate, and Lever Brothers (now Unilever), turned this commodity market into a specialized market with brand management. Coca-Cola and Pepsi-Cola did a similar thing with colored, flavored and carbonated sugar water. It is not too late to do this with printing and writing papers, but the branding effort must be orders of magnitude beyond what we have seen to date.

For safety this week, consider a cost I did not mention above. If an entity is delivering information electronically that they used to deliver as printed messages by mail, consider the safety hazards they are avoiding not handling paper, operating printers and so forth. It may just give you a bit of a competitive edge to provide safety training along with the paper you sell, so that your customers can minimize their employee's risks of a safety incident handling your product.

Be safe and we will talk next week.