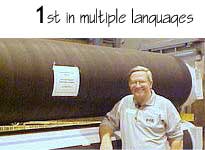 Week of 16 Jun 08

Click here, then click "Trans lator" in top navigation bar for other languages.




Last Thursday, about the time you were receiving last week's Nip Impressions, my dog Fred and I were living the pathos of a story much like the famous story of the sled dog delivery of diphtheria serum to Nome, Alaska in late January 1925 (well, maybe not that great, but it will serve the purpose here).

If you are not familiar with the serum run, it is the famous real life story for which the now annual sled dog race, the Iditarod, commemorates.
I love dogs, and every time I read the story of the serum run, I cry. Dogs blew their lungs out and mushers (drivers) took extraordinary risks, crossing lakes they were not sure were frozen enough to carry them. One team averaged an astonishing nine miles an hour for 28 miles. Others had to deal with four foot drifts of snow. Balto, the last lead dog in the relay, ran twice as far as normal (53 miles in total), leading the team by scent--the musher said he could not see his glove in front of his face, the whiteout conditions were so bad. By the way, it was -53F at the time.

Anyway, last Thursday, late in the day, a client wanted a document from me with my real, signed signature on it. I prepared the document and a Fedex envelope and Fred (my dog) and I started out walking for the Fedex box, 7 blocks away (I could have driven, but I did not want to increase my carbon footprint). Would we make it in time?

The Georgia sun was blazing, it was over 90F.
The first block was not too bad; I was in shorts, tee shirt and sandals, appropriately dressed for the weather. Fred picked at a few dried worms (his favorite road food) but I urged him on. Soon, Fred figured out we were in a hurry, and got down to business, pulling hard on the leash. Blocks two, three and four passed quickly. Five was a blur. At six we ran into a partially decayed dead squirrel, which Fred thought he had to stop and roll around in. I was now pulling the leash. Got Fred back in the game, and he took the lead again. We trotted across the parking lot, hoping the Fedex box would show the green sign. Victory! We had won the race in severe weather conditions. We dragged ourselves home--Fred's tongue nearly reaching the ground, me covered in sweat.

I have probably "Fedexed" a maximum of five documents this year. Ten years ago, the kind of work I do for this client would have necessitated daily trips to the Fedex box or the UPS box with ten pound packages--all paper. Then, Adobe Acrobat PDF (a registered trademark of Adobe Systems) became popular. Now, clients such as this prefer nearly all my work in the PDF format, delivered electronically. Not only has the PDF format eliminated a very large use of cut size copy paper, this change, along with the Internet, has eliminated two administrative assistants' jobs in my office (which illustrates there are sometimes hidden costs to paper usage). The down side for me is I can now produce clean revised copies in the format clients want while I am on vacation--and they know it.

Now, I don't mean to hammer on examples of loss of paper demand as it may seem I often do. I do intend to do so often enough that those of you in denial awaken to the point that you carefully analyze your grade's situation and take appropriate action before it is too late.

Take the above example, for instance. There is an opportunity here for a high value paper product that does not exist. For this client of mine came back the next day and wanted a notarized copy of the document Fred and I so "heroically" delivered. Why can't we make a paper and link with some sort of system on the Internet so that one could notarize a document without being present in front of a notary? Maybe this involves making a printer that has the security of the Pitney Bowes postage meter. I am sure law offices would buy such a machine and the special paper that goes with it. Maybe the paper turns pink when the proper safeguards have been met and it declares itself notarized. Maybe it actually has a section that self embosses like a notary's seal. I don't know, I'll let you great product developers figure this out, but it looks like a high margin product that some paper company, probably in conjunction with a printer manufacturer, could make into a great business.

My overall point is some grades go away, but others are developed that are higher margin, better businesses than the old. It is just a matter of using one's brain power and initiative to develop them. Nothing stands still and you can be successful for a long time to come if you realize this.

In this heat, if you are in the northern hemisphere, make sure you stay hydrated. A washup, down day, or emergency shutdown can create very hot working conditions. Keep yourself and those for which you are responsible safe and healthy as they work.

Be safe and we will talk next week.