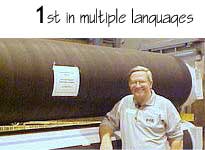 Week of 2 Jun 08

Click here, then click "Trans lator" in top navigation bar for other languages.




Here in the United States it is hard to find anyone these days that does not want to talk about energy. Everyone talks about how high the prices are. Of course, they are only talking high prices relative to the currency of the realm: the US Dollar. If you happen to buy oil with gold, in 1970, an ounce of gold bought 16 barrels, today it buys 8, which turns out to be an inflation rate of about 1.9% per annum over the ensuing 37 years--not bad.

Currency markets, another financial consideration, are producing mixed results for us these days. The US dollar is currently worth about 0.60 Euros. On January 1, 2000, the Euro and dollar were nominally equal. Someday, barring a catastrophe, they will again be equal.

If one is sitting in the United States producing goods and services, the current weakness of the dollar is doing you great favors. It makes the goods and services you produce relatively less expensive on the world market than they were in the past, so you can export more. We are seeing this in the paper industry. Exports are growing a bit after years of decline. Also, if you manufacture machinery or other products used in the industry around the world (such a machine clothing, clay and so forth), you have become more competitive.

The best condition to find one's self in these days? An integrated paper producer, self-sufficient in energy and pulp, sitting here in the United States. If you can't make money now, you will never be able to do so.

The places where current conditions hurt are in items you purchase from abroad, such as energy or market pulp. However, I can find a silver lining in these matters, too. For high prices for energy and market pulp will help you justify savings projects easier than you could in the past. Particularly in energy, these will pay big dividends in the future, no matter the price of energy.

So what do we learn from all of this? We have been saying for a long time that the pulp and paper business has become a truly global market. All the while we have been saying that, we have not been doing much about it, either in the present tense or in our future planning. My suggestion, I fear, is an addition to our already bloated corporate bureaucracies. For if we want to be as much in control of our future as possible, and we further agree we are in a global market, we are going to have to add a function that understands currency trends and has the authority to act on them.

You may counter that oil and market pulp are already denominated in US dollars, so what can I do about that? This is precisely the problem. A portion of the cost of a barrel of oil or a ton of pulp reflects the realities of the currency markets. For instance, if your business is conducted in Euros, you are buying pulp and oil at a considerable discount and advantage to someone whose business in conducted in US dollars (you do, however, have a disadvantage on selling price of your products).

The point is, these are complex issues, largely out of our control, as we currently conduct business. In order to avoid being at their mercy, we must (a) go to school, or become knowledgeable, of them and (b) be prepared to act on our new found knowledge. This is not an option, unless you are comfortable being buffeted by the winds of unknown and unseen traders off in a currency pit somewhere. Welcome to the truly global pulp and paper industry.

Of course, we know that safety trades in only one currency: personal responsibility. Accept responsibility for your actions and do all activities in a safe manner.

Be safe and we will talk next week.