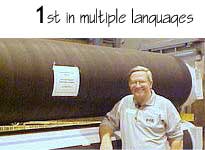 Week of 26 May 08

Click here, then click "Trans lator" in top navigation bar for other languages.




As a society, we are currently in the process of answering the question in this title. If one thinks of Earth Day epitomizing all things environmental, the answer is near at hand.

For right now, we are collectively wringing our hands over the "Energy Crisis" (at least the third, perhaps the fourth "Energy Crisis" since 1973). In actuality there is no energy crisis per se--there is, however, a definite unwillingness to continue to use fossil fuels at the same or an increased per capita rate than past consumption.

This unwillingness to maintain or expand the per capita consumption of fossil fuels is the Earth Day Premium. By the way, there is another, smaller premium--the security of supply premium (the unwillingness to continue to spend petrodollars procuring fossil fuels from those that want to destroy us), but this premium is tiny compared to the Earth Day Premium.

Consider this. As a point of reference, the Saudi Arabian oil supply is pegged at around 120 billion barrels, the single largest reserve currently being actively exploited. Let's look at what oil is currently impounded for environmental reasons or other.

1. The most famous case is ANWR in Alaska. Confirmed reserves are in a wide range (5 to 28 billion barrels). Speculative reserves (stated by no less that the US Geological Survey and the US Department of Interior) say there could be as many as 26 other deposits in the area of 500 million barrels or more. The Alaskan Pipeline is currently running at half capacity, so to move this oil requires no new major infrastructure.
2. The Bakken Field in North Dakota, Montana, Wyoming and Saskatchewan. The estimates are wide ranging, but reserves have been recently estimated at somewhere between 200 billion and 900 billion barrels.
3. Over-the-horizon coastal deposits. Here in the United States, we argue about the size of these and whether we should tap them. The US Congress, for instance, has banned drilling in 85% of coastal US waters. In the meantime, China cut a deal with Cuba a couple of years ago and is drilling closer to the tip of Florida than has been proposed in the US's own coastal drilling plans. Others in deals with Cuba for coastal drilling include Spain, Canada, Venezuela and India. The US Geological Survey estimates the Cuban block to hold 4.5 billion barrels of oil and 10 trillion cubic feet of natural gas.
4. New coastal discoveries in Brazil in the last six months appear to be around 5 to 8 billion barrels. This is not impounded, and will be developed relatively quickly.

In the meantime, it has been widely reported in the business press that large oil companies continue to use $40 per barrel as the cost justification price for any project, either extraction, production or transportation that they consider. In other words, if the project does not make sense at $40 per barrel, it is a no go. At today's $120 per barrel price, that imputes an Earth Day Premium of $80 per barrel.

This ought to also be a caution for anyone thinking about building an ethanol plant, biorefinery, or other alternative energy facility. For if we are really, today, living with an Earth Day Premium of $80 per barrel, what is to say we are willing to continue to pay this premium? Think of it another way--that $80 does not represent real costs, but rather an emotional price we are willing to bear. If we suddenly become unemotional, at least opportunities 1 - 4 above become reality and alternative energy scenarios are all suddenly underwater, so to speak.

It is instructive in times like these to remember the great Holland tulip bulb mania of the 1630's. This is when speculators in an open auction market saw tulip bulbs reach $76,000 (in current terms) each. It was widely believed that this bubble burst when the buyers and sellers determined they could not eat or wear tulip bulbs. However, this is only 2/3 of the story--one can not eat or wear gold, either. No, the big factor in the bursting of this bubble was a third factor--when they suddenly realized tulip bulbs were plentiful (as contrasted to gold, which is not).

Keep in mind another fact as well: 3/4 of the Earth's surface--the oceans--have not been surveyed for oil deposits. What is there is anyone's guess, but you can be sure it is not insignificant. Oil is still plentiful.

No, we do not have an energy crisis; we have an Earth Day Premium. The sooner we call it by its real name, the sooner we can sort out the options and pragmatically decide our future course of action.

Since we are talking about energy this week, for safety I'll mention operating internal combustion engines in closed spaces. I know at least one person in our industry that lost a loved one who was tuning an automobile in a closed garage, engine running. Of course, if that had been a hydrogen powered car, no problem.

Be safe and we will talk next week.