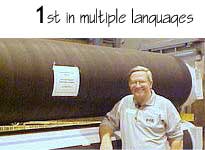 Week of 19 May 08

Click here, then click "Trans lator" in top navigation bar for other languages.





Special Announcement: We now translate into Finnish and Swedish, bringing our total selection of languages to 14!

As you know, I usually go for the extremes in my recommendations, so this week's approach to a particular issue may seem strange to long-suffering readers.

I have spoken several times about the futile efforts and waste of time and treasure I have witnessed over the past decade or so as corporations have attempted to install gigantic, over-arching software systems. I don't need to mention brand names, you know them. On the surface, such systems have an alluring appeal--the opportunity to control nearly everything from corporate. The concept is great, but most of these efforts have miserably failed in execution. Widespread reports of lower level departments finding "work arounds" just so they can function make a mockery of the data collection and controls such systems are supposed to impart.

At the other extreme, some backwater departments still control their operations with paper forms, calculators and so forth. We are certainly not against the use of paper here, of course, but such matters need be conducted with intelligence and employ the best overall economical solution available.

I was recently made aware of a situation that brings home the point. In a certain company, now, May 2008, they are keeping track of 10's of thousands of SKU's (Stock-keeping units) in a spreadsheet. Well, they may say they are keeping track of them, I find the concept a bit beyond credulity myself. Such an idea leads to this scene in my mind: "Leslie, can you come here and hold the 'down arrow' key on my computer while I go to the restroom? And if you get near line 35,000, please stop, I'll close in on the one I am interested in when I get back."

Obviously a department functioning thusly would be overwhelmed if you dropped in one of the huge programs from on high.

Yet there is a reasonable middle ground. There are many free-lance programmers about in most regions that could turn this whole exercise into a reasonable, small relational data base in very short order, say one month. It would not cost an arm and a leg. It would not be a gigantic exercise in frustration, it would just be done. And the department would be in better control of their business.

This is just one tiny example. So, what to do? If you are a corporate manager of a number of facilities, may I suggest you gather your like departments together and encourage them to sort out their practices and adopt the best they can find? For instance, pulp mill operational reports would be a good example. If you have five pulp mills, I'll bet they all track and report different things. Get the managers together and have them share their practices, and through consensus adopt the best ones. Do the same for all other departments across your operations.

If you are a department manager, take this task on yourself--do not wait for a directive from on high. Enlist your direct reports to brainstorm the way you do things now and to search out the best practices you can find. Adopt them if they are better than yours. Frustration will go down, efficiency will go up. You can count on it.

Hopefully your site safety managers are talking across your corporation and are absorbing ideas from outside. We have to continuously pull in the best safety ideas--no excuses.

Be safe and we will talk next week.