[Adv.] Edge: Pulpers, too!
Published: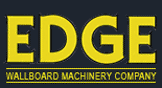 Did you know that Edge makes pulpers and pulper components, too? Edge has a complete line of their own design and makes replacement component for other popular brands.

Contact Edge to learn more about their ability to fill your needs for pulpers as well as paper machine components. And when you talk to Edge, tell them you saw them on Nip Impressions.

Jim

Answer to last week's riddle: Bones: "A baby's body has about 300 bones at birth. These eventually fuse (grow together) to form the 206 bones that adults have." Source: http://www.kidshealth.org/kid/htbw/bones.html

The riddle asked: "Most children will lose approximately 94 of what as they grow up?"

This week's riddle: Belgium, Canada, Denmark, France, Iceland, Italy, Luxembourg, Netherlands, Norway, Portugal, the U.K., and the U.S. were the original members of what club?
By the way, there is another riddle somewhere in this issue. Can you find it?
Comment