[Adv.] OpTest's OpTiSurf
Published: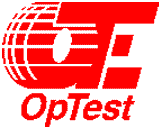 OpTest's "OpTiSurf" is indeed a new way to measure surface roughness. According to OpTest, "The OpTiSurf revolutionizes the measurement of surface roughness of paper. Using advanced optics and algorithms, it quickly quantifies the optical roughness of entire sheets. OpTiSurf correlates with traditional air leak tests but has greater precision and speed, with less maintenance." And I would emphasize that no air is required. I suggest you look at it today--just click on "More" below.

By the way, OpTest is going to be at Papercon 08 in Dallas, Texas. Their booth number is 308. Stop by and say hello.

And when you talk to OpTest, please say hello for us here at Nip Impressions.

Regards,

Jim



Answer to last week's riddle: See the letters column below. Our readers did a great job.

The riddle last week asked: "How should you place 2 lines on the face of a clock to create 3 sections whose numbers have equivalent sums?"


This week's riddle: As of 1995, what is the job title of the person responsible for mending U.S. Supreme Court Justices' robes?
Comment