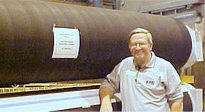 Week of 21 Apr 08

Click here, then click "Trans lator" in top navigation bar for other languages.




This question often comes up: "How can we save our mill?" Unfortunately and very often, the answer is that it is not worth saving. However, let's take a few minutes and look at what might be the assets and liabilities of an older mill one should consider.

First and foremost, the markets served are likely the most important asset. If the mill serves a stable or growing market, there is potentially something to talk about. Another asset may be operating permits--it can be very difficult to receive permit approvals for a new operation. People skills (operations) and contacts (sales) may be assets if they are up to date. Raw material sources, energy and logistics can be assets or liabilities, depending on one's competitive position relative to their peers. The processes, equipment and machinery are assets only if they are state-of-the-art for the grades produced or can be brought to this condition for very little money.

On the liability side, we may find a few of the potential assets mentioned above plus some other items. Poor raw material sources, logistics and energy costs will kill nearly any mill. Taxes and legacy pension costs are often the largest liabilities, if not outweighed by environmental clean-up expenses. Cultures are nearly impossible to break, so if the people have out of date skills and habits, they just may be incurable. Poor layout means expensive daily operations. Finally, we get to process and equipment, which are often the only liabilities that are considered when people first think about obsolescence. As an aside, excessive depreciation can be a problem if the facility has been loaded up with poor investments.

Several things on the liability list are there because new mills don't have to worry about them. I have consulted in siting new facilities, and the game is played thusly. One hires a great consultant (ahem, such as me) to go to several likely governmental jurisdictions (in the United States, these are the individual states) with a confidential proposal dangling x number of construction and permanent jobs in front of each state's development agency. The consultant's client is not revealed in the first few rounds of talks.

The exercise is an auction, answering the question, "What will you give me?" Depending on the region of each state targeted, one can get land, buildings, property and manufacturing tax abatements for decades, sales tax waivers for all equipment, new roads to the site, training credits, tax credits for employees, expedited permitting processes and on and on and on. If one is looking at a brownfield site, often the agency will help mitigate or waive the cleanup costs associated with renewing the site.

Existing sites cannot compete with this largess.

So what to do? First of all, one needs to plan ahead. The methods I am suggesting will probably not work for a mill that is already on the ropes and looking at bankruptcy in six or seven months. Start by making an honest list of your assets and liabilities. If you have advantages in raw materials, logistics and energy you may have a chance. Honestly assess your facility and its employees. Build a realistic balance sheet of your assets and liabilities. If the assets look good (starting with markets that are not likely to decline) and you have the aforementioned advantages, pick a date you are going to shut the mill and announce it far and wide. Hopefully this date is far enough out in the future (around two years is good, time enough to do something but not so far in the future that no one is worried about it) so that you can get everyone on board with your plan, which is this: Announce that you are going to build a new facility five miles down the road to replace your obsolete one, providing you don't get a better offer from another state (or whatever the governmental jurisdictions are in your part of the world). Make sure everyone realizes you are dead serious and if the local community wants to keep you and the number and kinds of jobs a modern facility in your grade employs, they will have to negotiate against real and viable competition. Have your consultant confidentially work the other regional governments, feeding you with competitive information to negotiate locally. Promise everyone you are going to take the best deal.

In reality, if a new mill does not make financial sense in or near your current location, an old one has no chance, if you honestly assess assets and liabilities. The carpet baggers running around with promises of saving your mill if you will only follow their plan have missed the biggest liabilities. They focus on existing physical assets. That is the tiniest tip of the iceberg.

Many years ago, I was involved with an exercise exactly like this with a large newsprint mill. We looked at making some improvements at the existing mill and building a new one on a greenfield site just down the road. Neither made economic sense. The client chose to continue to make improvements at the existing site anyway since it had "such great advantages." The mill has now been shut for years, but not before millions more were sunk in the same retched financial morass. The liabilities that killed the place were not, I repeat not, the physical assets. There is a sad but strong lesson here.

Mills in the turmoil described above tend to have poorer safety records, for everyone is focused on their future while ignoring their present. If you are in such a mill, work extra hard on safety.

Be safe and we will talk next week.


---

By the way, if English is not your first language, have you tried our translator? See instructions next to my picture at the top of this article.