[Adv.] Philadelphia Mixing
Published: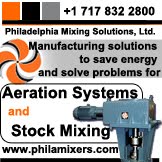 Philadelphia Mixing Solutions, Ltd (PMSL) energy-efficient engineered products help you to save using the latest mixing technology and reliability strategies for today's mills. With our technology, today's pulp and paper mills can easily operate at much higher impeller-to-tank diameter to eliminate stock agglomeration/stagnation, maximize the residence time of new stock flow, eliminate short-circuiting and maximize stock degassing while minimizing air entrainment.

PMSL impellers such as the Lancer™ Advanced Pitch propeller provides unmatched fluid dynamics and the CounterFlow™ impeller eliminates agglomeration/stagnation, maximizes residence time of new stock flow, eliminates short circuiting and degasses stock while uniformly mixing pulp consistencies up to 20% using less energy than traditional mixing configurations.

With a legacy of mechanical reliability that started over 100 years ago, PMSL continues to supply the global pulp and paper industry with the highest quality agitation equipment designed and manufactured for maximum return on investment for the industry's various mixing process duties.

PMSL is committed to improving the efficiency of your mixing operations. At our 30,000 square foot state-of-the-art laboratory located in Palmyra, PA, testing is continuously conducted to optimize process designs for scale up purposes as well as process improvement studies. We have locations around the globe to provide the best support and service for your specialized needs.

The PMSL family of companies includes UK-based MSL and Latin America-based Philadelphia Mixing Solutions, Ltd. S.A. PMSL's offerings include chemical processing, biological and industrial wastewater treatment, tank storage, mineral processing, flue-gas desulphurization (FGD), water treatment and other fluid mixing applications.

Learn more information about the various markets we serve:
Pulp and Paper
Waste Treatment
Water Treatment

For access to product information or to chat with a live representative, visit www.philamixers.com.
Comment