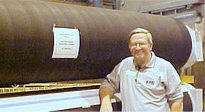 Week of 7 Apr 08

Many years ago, while at a flea market, I bought the entire 1944 collection of Reader's Digest Magazine. What was striking in these twelve thin issues (besides the total lack of advertising) was that each and every article was about something to do with World War II. No matter the apparent subject, it had a war slant to it.

Today, one is struck by the pervasive focus on green and natural. Just this past Saturday, Laura and I were flying to New York for AF & PA's PaperWeek. Delta's March Sky Magazine, in the seat pocket of the creaky old MD-88 with which we had safeguarded our lives, was totally and completely about being green.

Stewardship of the earth, at least in the United States, federally formally started one hundred and two years ago with President Teddy Roosevelt, when the Act for the Preservation of American Antiquities of 1906 became law, setting aside land for national parks.

In the late 1960's, when I was a teenager, turmoil abounded. One of the outcomes of that turmoil was Earth Day and the modern environmental movement. At the time, I thought it all a fad that would quickly pass (my alignment at the time is illustrated by an essay I wrote in high school on the value of throwing litter from car windows; how it would naturally help stop erosion as it found its way to stream beds).

Well, I have been wrong before. My current viewpoints could be characterized as an appreciation for this satellite we ride and a concern that we be good stewards of its bounty; however, let's not go nuts about it. Many today seem to be attempting to assuage their guilt for having been born as humans.

Our current world wide focus on environmental stewardship and the green movement is at least at a frenzy comparable to my old Reader's Digest magazines and actually probably more akin to Beatlemania of 1964. The subject is everywhere and inescapable.

What causes this? We finally get to my theory of the week. Students of philosophy, psychology and theology will tell you that humankind has a spot in the psyche that must be filled with acknowledgement of a higher power. You can argue about why we are built this way, but it is fairly irrefutable that we are. This phenomenon crosses all races, creeds, cultures and classes. We all have it.

Now, much of the world still acknowledges and participates in one of the formal religions (Hinduism, Buddhism, Islam, Judaism, Christianity and so forth). I do myself, although that is not the subject here. However, we can all agree that there has been a trend, at least since the beginning of the Age of Enlightenment, for humankind to move towards a more secular view.

Yet, this secular view leaves the old spot in the psyche empty. And we need to fill it. And we have--with environmentalism, our new religion. In fact, one way to look at this new religion is to study the old, for instance, the view of the Native American religions. They worshipped the earth, the stars and nature. They did not have the concept of title to land or ownership of any of nature's wonders. These ideas are strikingly close to those of the environmental movement. Environmentalists insist on the right to govern how one uses the land, no matter who holds legal title. The views they have towards solids--earth, they apply to liquids--streams, and gases--the air. And all the while, I posit, their driving force is an autonomic reaction they can not control--filling that void in their psyche.

This is why the movement is so powerful and so, dare I say, sustainable(!). We must fill the psyche hole--it is as essential as eating or breathing.

Now, all of this leads to another conclusion that I will also posit but leave hanging for you readers so inclined to write to me expressing your opinions. It is this: if one ascribed to the idea that the old religions were irrational and just a means of satisfying a basic human need (note: not my personal view), one could equally argue this new religion, environmentalism, has the same irrational qualities.

Coming back to earth for a bit, safety is something that is real and tangible. You are either safe or you are not. We can tell your actions, in past tense, by your lack or collection of splints and bandages on your body.

Be safe and we will talk next week.