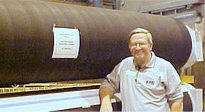 Week of 31 Mar 08
Or call it "AGO" for short.

I have always been a big proponent of preventive and predictive maintenance. Often while in the field, I hear stories of maintenance disasters. Some are spectacular catastrophes, such as when turbines fly apart or dryer cans blow up. Others are just poor operations due to unpredicted failures.

This is not scientific, but I'll bet a good 75% to 85% of mechanical maintenance failures are the result of poor alignment or lack of proper greasing and oiling. This is based on the anecdotal stories I hear.

We have talked in this column before about the fast rising managers that come onto a site, cut out maintenance, make a good profit for a couple of years and then move on, leaving the next manager to clean up the mess. And, of course, the next manager looks bad because of the unpredictable failures (costly downtime) and the high level of maintenance needed to bring the place back into shape.

Yet, the root cause of many, many mechanical failures is simply poor alignment and lack of lubrication. If these simple steps were emphasized with the same intensity as we emphasize safety, millions of dollars could be saved.

Maintenance consultants, and there are a number of good ones, have developed many excellent programs for monitoring and managing maintenance. Most of these programs approach maintenance from a technical, probability, and statistical level. I suspect for the high level technicians that touch the machinery, this may be necessary.

However, what do we do to provide a leading indicator statistic for management? For to be ahead of the game from a management perspective, one certainly needs to monitor a leading indicator. My thoughts direct me to suggest measuring the purchase and proven consumption of lubricants.

How would one go about doing this? Perhaps by benchmarking against one's own best facilities, with some accommodation in calculations made for mechanical complexity (such as total connected horsepower [kw]?). This could certainly provide a metric for the purchase of lubricants, but how to prove that they were actually applied? The simplest way I can think of to do this is to account for all lubricant containers coming in and account for all empty lubricant containers going out. In other words, if the quantity of full containers coming in and empty containers going out reflect the practices in a company's best facilities, then we should have a good leading indicator of mechanical maintenance (the only other place the lubricants could go is down the drain or on the ground, and one's environmental monitoring program should pick that up quite quickly).

It just may be as simple as this. If anyone chooses to try this out or has done this or something equally simple and effect that works, let us know and we will publish your letter.

In the meantime, keep up the intensity on monitoring safety. We can not let our guard down for one minute.

Be safe and we will talk next week.