[Adv.] Fulton Systems
Published: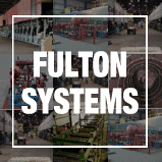 Fulton Systems is North America's leader in terms of Thermocompressor and Steam Systems Installations. Their references in the paper industry include over 80 years of support, thousands of operating Thermocompressors and hundreds of paper machine rebuilds. They are a leading supplier of Thermocompressors; Condensers; Desuperheaters; Vacuum Receiver Modules; Separator Modules; Collections Modules; Controllers, Transmitters and Control Valves; Dryer Drainage Equipment; and High and Low Speed Rotary Joints and Syphons. Additionally, they provide dryer section performance audits, steam and condensate system design and consulting services. Give them a call today at +1-770-447-1400 or check out their website at www.fultonsystems.com
Riddles by Travis:
How many states are in the United States?.

You can find the answer by starting here.
Comment