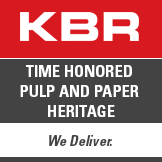 As a leader in the Pulp and Paper engineering and construction business, KBR continually works to improve the efficiency of the world's leading producers, enabling them to operate more cost-effectively, connect with new customers, and get their products to market quicker. KBR has the resources to assist with any part of mill operations, from feasibility studies for upgrades and expansions, shutdown support and boiler repairs, to commissioning, startup testing, and environmental permitting. The enduring relationships between KBR and our Pulp and Paper clients have allowed us to attract and retain some of the best talent in the industry. Our talented staff of engineers, designers, and procurement specialists has assisted clients with every aspect of mill operations from raw material receiving to converting, product handling, and logistics.
Over 50 years as a leader in North America's Pulp and Paper engineering and construction businesses

Top two in the Pulp and Paper design and construction industries over the last five years

Over 80 percent of our business is derived from repeat customers

International and domestic expertise

Our experience includes:
               o Tissue, Newsprint, and Fine Paper Facilities
               o Pulp Mills o Paper Facilities
               o Paper Converting
               o Machine Upgrades
               o Recycle Fiber
               o Board and Linerboard Facilities
               o Wood Products
               o Boiler Rebuild and Repair


Riddles by Travis:
What cereal grain has the most protein (as well as more than iron roast beef)?

You can find the answer by starting here.