[Adv.] Edge: Pulpers, too!
Published: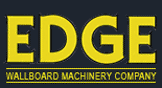 Did you know that Edge makes pulpers and pulper components, too? Edge has a complete line of their own design and makes replacement component for other popular brands.

Contact Edge to learn more about their ability to fill your needs for pulpers as well as paper machine components. And when you talk to Edge, tell them you saw them on Nip Impressions.

Jim

Answer to last week's riddle: Answer: MacGuffin or McGuffin, coined by Alfred Hitchcock

The riddle asked: "Name an eight or nine letter word, coined by a famous show-business person to describe a plot element that helps generate action, but turns out not to be particularly important to the narrative"

This week's riddle (supplied by David Kaminski of Bright Technologies): What nine letter word in the English language is still a word when each of the nine letters is removed one by one?
Comment