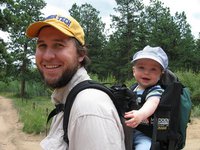 My dad poached a fish today.  To be more accurate, my father and I accidentally fished on water that we did not have the right to be on, and before realizing our mistake, he caught a lovely trout which he promptly returned to the water unharmed. 
The spot where we approached the water was marked on the map as public, and was not posted as private.  Assuming we were allowed to be there, we began fishing. 
In a short while, a truck drove up, and a man informed us that we were trespassing.  I immediately apologized and pledged to leave with all deliberate speed, but as explanation I remarked that my map indicated that the land was public.  The man in the truck said that, yes, the land was owned by the state, but it was leased for private use.  Apparently, the arrangement was confusing and/or unpopular with locals, who removed the "No Trespassing" sign that was not there when we arrived. 
Lucky for my father and me, we are in Colorado which is home to 13 National Forests and Grasslands; ample Bureau of Land Management holdings; scores of state forests, wildlife areas, fishing units and parks; and hundreds of city and county recreation areas; many of which include fishable water.  The public lands we have explored the last week support all sorts of recreation: mountain biking, rock climbing, snowmobiling, camping, hiking, fishing and skiing to name a few.  Within a few minutes (or less) of pricey resort towns, anyone can camp for FREE in full view of gorgeous wildflowers and diverse fauna. 
Of course, recreation is not the only use of public land in the United States.  Grazing, logging, drilling, mining, and other economic activities appreciate the no- and low-cost opportunities afforded by access to government-managed property. 
If you hike, fish, or ride ATVs regularly, you probably do so on public land.  Many of us who enjoy these activities, myself included, take for granted that access will continue unfettered in perpetuity.  But with rare exceptions, such as defined "wilderness" areas, there is no promise that the current use will be the future use for any given parcel of land.  What is today a place to hunt deer and elk may be a natural gas well, a solar array, a reservoir, or a developed ski area in the next generation.  On rare occasions, public land is managed for the benefit of non-humans, in particular when the Endangered Species Act is invoked, but public land generally serves human public purposes, and those purposes are determined through the messy process of politics.
I would posit that private land is often managed worse than public land, but that, of course, imposes my own values on individuals pursuing their own interests.  I could point to industrial wastelands, farms that denude hillsides and strip the soil of nutrients, and mines that spoil entire watersheds.  But even as runaway capitalism creates these eyesores and environmental catastrophes, the captains of industry are quietly doing what they have done for decades – conserving land.
Take for instance the Georgia Coast:
"Georgia's 100 miles of coastline account for something like three-quarters of the intact, undeveloped salt marsh on the entire East Coast," says Andy Meadows, a state natural resources officer and one of the half-dozen permanent residents on Ossabaw Island, just south of Savannah. "It just blows your mind. And it boils down to the fact that so many of these islands were once owned by rich Yankees." 1

More recently, hedge fund billionaire Louis Bacon pledged 90,000 acres to help create the Sangre de Cristo Conservation Area in Colorado.2

It seems to me a strange irony that the lands owned by robber barons from the late 1800s to today stand the best chance of being preserved in a natural state that sustains diverse native wildlife.  Of course, many of these lands will exist as easements or trusts that will provide little or no access for regular folk.  I sleep better knowing that there are places where bears and mountain lions roam freely and the wild fish grow fat in waters free from pesticide-laced runoff.  But I am also a little bitter that many of these lands will be forever beyond my reach and that they were bought with monies that were sometimes attained through values in opposition to sustainability, conservation and preservation. 
I want more public wilderness, I want healthy, productive public and private lands, and I want people a hundred years from now to be able to enjoy national forests in a similar way to the way I enjoy them now.  I have a lot of angst about these issues.  But as my dad says, this is angst that will be much reduced by catching several large trout.

***
Travis holds a Ph.D. in public policy from the Lyndon B. Johnson School of Public Affairs, University of Texas, Austin, Texas, USA.  He resides in Golden, Colorado, USA.
1http://www.washingtonpost.com/wp-dyn/content/article/2002/05/19/AR2005041500695.html

2http://www.forbes.com/sites/ryanmac/2012/06/15/hedge-fund-billionaire-louis-bacon-to-donate-90000-acres-for-colorado-conservation-area/