Listen to this column in your favorite format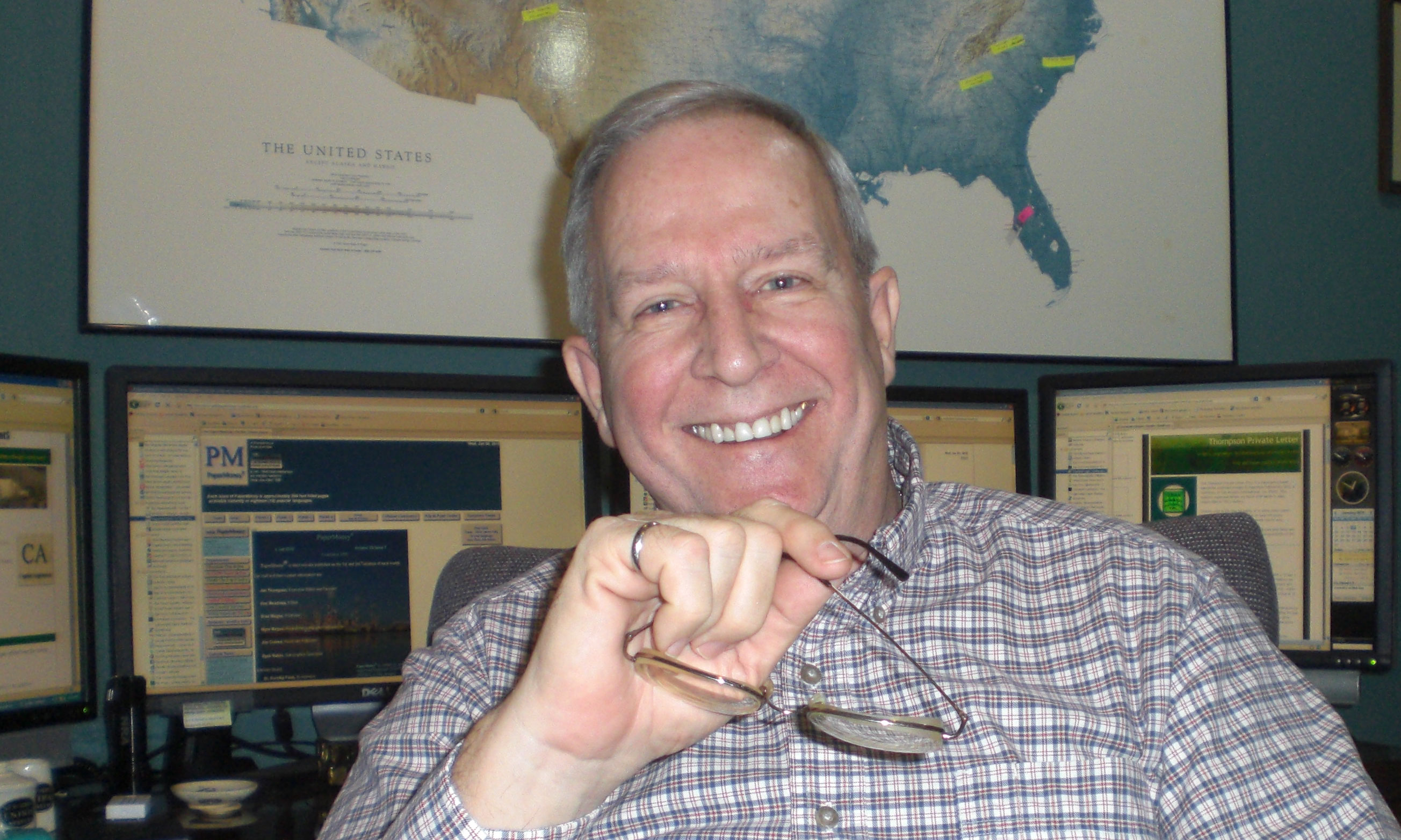 As many of you know, I write a conservative political column that appears in some newspapers in the United States.  This week, in that column, I focused on the changes of the past 150 years.  For 150 years ago this week, Vicksburg, Mississippi surrendered to Union Forces and the Confederate Army lost the Battle of Gettysburg, the largest battle ever fought on North American soil.  I took that occasion to mark the instruments of high tech in those days: rifled muzzleloaders, the telegraph, railroads and the newly introduced kerosene lamp.  Yes, it has only been 150 years from the rifled muzzleloader to the iPad, a short time by any measure.
For not quite a third of that span, I have been involved in the pulp and paper industry.  If you count my years riding a chainsaw to cut pulpwood, I can declare myself a participant for a full 1/3 of those 150 years.  We have seen a little change in this time, don't you think??
****
Hear the news about the pulp and paper industry worldwide here first!

Listen to Pulp & Paper Radio InternationalTM regularly.  
****
It wasn't that long ago, early in my career, when we still focused on the technology of making paper.  In those days, we also ignored the environmental NGOs.
No more.  In my early days, forest products companies were focused on maximizing the exploitation of the resource, virgin wood fiber, in as many ways possible.  Companies such as Weyerhaeuser, International Paper, Westvaco, Mead and many others focused on harvesting the forests and making as many different products as they could from power poles to plywood to newsprint and packaging.  There were a few a bit more specialized.  Consolidated was one of those.  So were some of the newsprint manufacturers such as Bowater. 
Today, the technology to produce our products is almost an afterthought.  Pulp and paper companies today are organized by markets, something I predicted would happen over 20 years ago.  Now we build new facilities in record time (once we get the permits), tweak the production of existing facilities and have tools to examine the process in ways we only dreamed about even in the 1980s.

****
Savvy advertisers read Advertising Arguments.

and...
Join Adveristing Arguments for the Pulp and Paper Industry for regular tips on electronic advertising.

****
Environmentalists, markets, public perception and displacement by other technologies are the frontiers of challenge today. 
While our pulp and paper schools are experiencing a resurgence in popularity as forest products companies, late to the game, realize they have about a 15 year gap in the continuum experience in their mills, I would challenge them, the schools, to look to the future. 
Resting on the same old curricula, slightly updated, is not going to suffice to prepare leaders for our industry in the mid 21st century.  And face it—the graduates of today will likely be running the industry in 2045-2060.   We need more specialized paths to create a crop of graduates that will be out in front of the roar of technology marching on. 
We will certainly require graduates who understand pulp and paper making, but we need some who understand other subjects, as well.  For instance, how do you market pulp and paper products in a skeptical world who thinks the industry is old fashioned, environmentally destructive and just plain not chic?  We desperately need people who have focused from the college level on understanding these issues.  Back to the technical side, we need executives who understand maintenance in the context of massive facilities operating 24/7 where downtime and repair parts are horribly expensive.  And, finally, we need human resource managers who really understand 24/7 shift operations and how they affect the management and the overall lives of employees.
These matters are all being handled today in an ad hoc way by many specialists and consultants who have sprung up to fill the need.  These deficiencies in collegiate and graduate education have made good business for many of my colleagues in this business as well as for me.  Yet, as I look to the future, I see an industry increasing in complexity in these areas, one which will require more highly trained personnel than ever before.
What do you think?  Where do you see the need in education?  You can take our weekly quiz here.
And, of course, we do not want to forget safety.  The more complex they are, the more safety issues our mills create.
Be safe and we will talk next week.