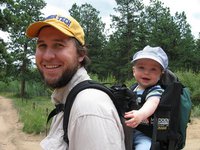 Wildfire season is already in full swing here in Colorado. Despite much-needed spring snow, the state has several major fires burning, including the Black Forest Fire north of Colorado Springs, the worst fire in the state's history in terms of homes destroyed. Two residents lost their lives to the flames, more than 500 homes have been turned to ash, and more than 14,000 acres have burned. This latest major fire comes less than a year after the High Park Fire and Waldo Canyon Fire set previous records for numbers of incinerated structures in Colorado.
When you live close by a disaster (or a series of disasters), there is a threat of observation bias. Floridians observe more hurricanes than Kansans, Oklahoma has more tornadoes than New Hampshire; we worry more about wildfires than shark attacks here in Colorado. Unfortunately, the rising impact of wildfires is not anecdotal, but an objective reality.
In June 2013, Ross Gorte, a researcher with Headwaters Economics, published a report titled "The Rising Cost of Wildfire Protection."
Gorte notes discouraging trends:
"The six worst fire seasons since 1960 have occurred since 2000...Not surprisingly, wildfire protection costs have risen substantially. In the 1990s, the average cost of federal wildfire protection and suppression was less than $1 billion annually. Since 2002, the cost of federal wildfire protection and suppression has averaged more than $3 billion per year. Wildfire protection now accounts for nearly half of the Forest Service annual budget, and more than 10 percent of the budget for all Department of the Interior agencies. These figures do not include the $1-$2 billion spent by states on wildfire protection or an untold amount spent by local governments."
There are many factors contributing to the increasing severity of fires and the rising costs of fighting them. Yes, Gorte attributes some of the blame to climate change – shorter winters and more rapid snowmelt lead to longer and more severe fire seasons. However, development patterns bear much of the direct blame.
The biggest factor in the increased cost of fire suppression and fighting is that people are building more and more homes in forests – or in Gorte's terms, the "Wildland Urban Interface" (WUI). Once a structure becomes imperiled, attention immediately moves from managing the fire and the biomass resources to saving the home if at all possible. Gorte suggests policies such as requiring extra insurance coverage (similar to flood coverage required in hurricane-prone areas) or even pulling the mortgage interest deduction from homeowners that build or buy in WUIs.
The growing size and intensity of fires comes from poor management of forest resources. Logging patterns that select cut tall pine, which are then replaced with Douglas-firs and true firs, result in less resilient western forests.
Uncontrolled, large-scale, total-loss wildfires are human and ecological catastrophes, but they are also economic disasters. The forest is simply too valuable to lose to unmanaged fire. Happily, extracting value from the forest also helps ameliorate wildfire risk. As Gorte concludes, "Fuel treatment efforts must be expanded, both in the WUI and also in other parts of the forest. This includes mechanical treatments to remove biomass, for wood products and/or for energy production."
Forest product companies would be wise to audit best practices to minimize their exposure to wildfire risks, and all of us would do well to brush up on our basic prevention tools via Smokey Bear.
Have fun outside this summer, but be careful and smart!
***
Travis holds a Ph.D. in public policy from the Lyndon B. Johson School of Public Affairs, University of Texas, Austin, Texas, USA. He resides in Golden, Colorado, USA.