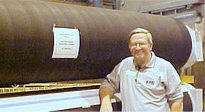 Week of 3 Mar 08
I am going to start broadly and then narrow down to a specific paper grade towards the end of this column, so please be patient with me for a moment.

When one sees anecdotal evidence of the closing of certain industries and the loss of jobs of thousands of people, the first reaction is often to suggest placing a tariff on imported goods. Most such reactions have worked poorly, at least here in the United States. The McKinley Tariff of 1890 is widely blamed for the Panic of 1893 and the Smoot-Hawley Tariff of 1930 plainly exacerbated the Great Depression.

These days, in the United States and Europe especially, there is great fear of cheap goods from China and India. Additionally, there is outrage at the loss of home jobs to places with less expensive workforces. In the short term, these fears are probably well founded, but I would argue that it is dangerous to succumb to short term fears at the expense of creating long term damage. If the Luddites had had their way, none of us could afford clothes.

Besides job losses, there is one other short term effect that is of concern. That is the balance of trade (which some people erroneously confuse with the deficit of the US government, a totally unrelated issue). Balance of trade works like this: One country ships their currency to another in exchange for goods. The country receiving the currency, through taxes and so forth, builds up their reserves of the goods-receiving country's currency. Ultimately, two things happen: (1) the currency of the country shipping out money devalues relative to other currencies, which is what is happening to the US dollar now and (2) the country receiving and holding money builds up large reserves. Today, these reserves are called "sovereign wealth funds" and they are being invested in other countries besides the holder's own.

For a country such as the US, this means we ship money to China, for instance, to buy cheap appliances and they use that money to buy Manhattan. Not a good thing, except there are two dangers for sovereign wealth funds: (1) there is a danger that their investment could be nationalized and (2) there is a danger that they could over pay. Condition (2) happened with Japan in the early 1990's--they bought a number of US properties at outrageous prices and those properties went bankrupt in the process. Their poor judgment in investing the revenues earned by their exports ended up hurting their economy in the long term while the US experienced one of its greatest eras of economic growth.

One other thing to remember is that the least expensive place to produce goods is not a static condition. Also, the types of goods desired by the consumers of the world do not reflect a static demand. We decry cheap T-shirts from Thailand. Yet, one hundred years ago, no one wore T-shirts and one hundred years from now, who knows what we will be wearing or where it will be made. A punitive tariff created to solve a short term pain today may still be affecting the country creating it a hundred years hence.

One hundred and forty years ago, cheap steel was made in Britain. Then cheap steel production moved to the United States. Not too many decades ago it was in Japan. Now we have steel mills all over the US South and the world's largest steel company, Arcelor Mittal, has at least a secondary headquarters in London. The location of inexpensive production of any given item is very fluid.

Now, I promised you a specific example, so here it is. Let's talk about corrugated boxes. There is some great fear that cheap corrugated boxes are being made in China, to pick on a country, and being shipped to the US, displacing US manufacturers. I am sure there are a few instances of this happening. However, I can not see it happening on a sustained long term basis for the following reasons.

First, China is fiber short and has a huge demand for boxes to encapsulate the consumer goods they are exporting around the world. They need all the boxes they can make. They have neither the liner, medium and box-making capacity nor the fiber to make many boxes for export.

Second, some argue China can make boxes cheaper than we can in, say, the United States. So what--those boxes are needed locally, even if they are free. The cost of manufacture does not enter into the equation.

Third, there is a shortage or near-shortage of export shipping from China making shipping expensive. This means that only the highest value goods will be exported. This might, as a stretch, include rolls of liner or medium, but it will not include sheets of corrugated or box blanks. The shipping costs, due to the balance of outbound shipping capacity, will crowd out such products. Along with the shortage of outbound shipping, there is a near shortage of Panama Canal capacity (I have a web cam up on my desk that is at the Miraflores Locks on the Panama Canal and one can easily see the heavy traffic day and night) and port capacity at places such as Long Beach, California. These drive up shipping costs as well.

Fourth is the logistics. Box consumers are used to near-instantaneous delivery of their orders. Unless one is going to fly in the boxes (an even more ridiculous shipping scenario) the consumer of boxes will not tolerate such poor service.

Do we need to worry about off shore products displacing home made products? Sure. Do we need to get in a panic and use tariffs to stop importation? Absolutely not. A better way is to attack the competition with better methods and systems of our own, beating the competition at their own game.

And of course, we cannot import safety. But, we can import safety ideas. As new places make products, their safety conditions may be totally different than the ones we experience and we may just be able to learn from them.

Be safe and we will talk next week.