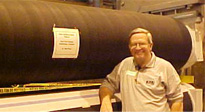 Week of 21 May 2007

First, we hope you enjoy our new look. Many of you have asked for a website for Nip Impressions and now we have one. You will now be able to review each week's Nip Impressions in its entirety by going to www.nipimpressions.org and clicking on "Newsletter Archives." You will also be able to search old issues for a particular term with the "Search" function. We will start building an archive with this week's column. We have worked diligently to try to make this as smooth and glitch-free as possible. If you notice anything we can improve, please let me know via an email to one of my addresses above.

Now, off topic this week. In late October 2006, I developed an abscessed tooth. My dentist hustled me off to the root canal specialist (everyone is a specialist) and we thought we dispatched this handily. In a follow-up visit the next week, however, the root canal specialist was not happy (because the abscess had not receded) and sent me to an oral surgeon to see if the abscess could be relieved. However, instead of relieving the abscess, by the next morning, the oral surgeon took biopsies and hustled them off to my favorite cancer doctors at Emory University here in Atlanta (I had non-Hodgkin's lymphoma 7 years ago and was declared "clean" of that one long ago).

Result? I had Burkitt's lymphoma, a disease that has now been tentatively linked to farm kids from the days when we shoveled fertilizer and pesticides without protection. It has also preliminarily been linked to teenagers that handled tobacco plants which brushed against their bare arms. Farm wells may also have been contaminated from some of these sources. Guilty on all counts. I won't bore you with the ten extended stays that I had at Emory University Hospital, multiple blood transfusions, and the countless outpatient clinic visits (starting in mid-November and ending this month), only to say that my prognosis is excellent at this time (a PET Scan on 10 May 07 could find no cancerous cells in my body). There are a few points worth making, however:

1. The outpouring of support I have received from friends in our industry around the world has been humbling. We are truly one big family. Thank you—it would be impossible to thank all of you personally--except to say a special thank you to my wife Laura who took me on as a full time job for the last six months as she put her own career on hold to make sure I was extremely well taken care of. Her countless drives through Atlanta traffic from our home to Emory and back were a perilous enough hardship in their own right without even mentioning the nights she spent in my room on the "comfortable" overnight chairs (my new slogan--if you want to be clean or get a good night's sleep, don't let yourself be admitted to a hospital).

2. You need to know cancers are divided into two major categories: soft tissue and tumors. Blood cancers (leukemias, lymphomas and certain other cancers) are soft tissue and treated in an entirely different way than tumors. Tumors may often involve surgery and chemotherapy as well as radiation; soft tissue types usually involve chemotherapy and sometimes include radiation.

3. If you have something funky happening with your body, get it checked out. Now. This week. Early detection is your best friend.

4. I have seen a number of new patients at Emory and even had an acquaintance diagnosed with lymphoma this winter. For all new cancer patients, their biggest enemies are denial and delay.

5. Despite excellent diagnosis, one person I know has chosen to order an elixir over the Internet that is supposed to be a cure all for everything. Do you think all the research and insurance dollars being spent on treatment would occur if it was this easy? Such actions are just a form of denial.

6. Go to the best cancer center in your region, or if that is not good enough, the best one anywhere for the kind of cancer you have. This is easy to research these days. You do not have a cold. It is unlikely that you are going to get the best treatment possible for any cancer, just to pick on a mill town, if you happen to live in Quinnesec, Michigan (don't write me about my random choice, please!). Travel, sometimes long distance travel, is often necessary.

7. I am struck by the progress, at least in my field of current interest—lymphoma, that has been made in the last seven years. It is phenomenal, and from what I hear, is proceeding apace in most other areas of cancer research.

Conclusion—many cancers are no longer a death sentence, as long as the patient is not in denial and wastes valuable positive early action.

Consider for your next safety meeting inviting someone in from your local cancer society chapter for a broad overview on what are the symptoms for various cancers and how one should go about watching for them. Anecdotal evidence suggests that for every hundred employees you have one or two in denial right now—and cancer does not care what their job title or age may be.

Be safe and we will talk next week.