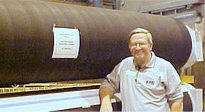 Week of 25 Feb 08
First, let me categorically state that the changes I have observed in nearly forty years in industry I find neither frightening or unusual nor do I believe they are unique to our industry or our times. It is worn out but true: change is the only constant.

As I have watched mill sites, headquarter sites, company names, products, sales offices and so forth come and go over those years, the only conclusion an attentive observer can come to is that mill sites, headquarter sites, company names, products, sales offices and so forth come and go. Change is always in the air.

So where does failure come into play? The root causes of failure are lack of perspicacity, lack of vision, provincialism, stubbornness, and the self-fulfilling fear of failure.

Most are deathly afraid of failure. The reasons are several. The two biggest are embarrassment and the unknown conditions on the other side of failure.

Yet, failure is a large component of success, both for our companies and for ourselves. Overcoming a failure is a fantastic learning experience that can lead to great insights concerning what to do next. Why do we like to talk to leaders with experience? Because they have had lots of failures, with which they have developed wisdom we wish to gather for ourselves. The really good (or lucky) took their failures in little, non-public doses, but built on each one and learned much from it. Yet even in a big one, such as Enron, consider this: other than those who went to jail, how many former Enron employees do you think are out of work or otherwise failing today? I suspect you would find the number to be quite small. Some were at retirement age or decided to do something else with their lives, which is certainly not a failure. At this point in time and distance from that spectacular failure, I think most involved will be able to say they are doing fine.

There are many examples of failures in sports, of course. In the Pro Football Hall of Fame for instance, we find on of my favorites: the late Walter Payton who rushed for a career total of 16,726 yards (9 ½ miles). Failure? He was knocked down, on average, once every 21 feet during this journey, or 2,390 times.

Thoughts of failure often leave us seized with fear. Yet, until we overcome that fear, we cannot really thrive. On a personal level, this means we have to take on that new responsibility, accept that promotion, move to a new location, speak up (diplomatically, of course) in meetings where decisions are headed down a disastrous path and on and on. It is not easy, but it is very necessary if we want to preserve our careers. Yes, I said preserve--for these are the actions that help us to ultimately protect our careers. News for you--it takes more than this, much more than this, to expand our careers dramatically.

At the enterprise level, this holds true as well. Look at the newsprint business, for instance. There has been some effort in North America to be innovative, but most efforts can charitably be called retrenchment. Human requirements, needs and desires have moved on and made newsprint an obsolescing technology from a market perspective. The last standing major newsprint manufacturer still has not figured out a winning strategy. Yet, the current management may not be the management at fault for the predicament in which newsprint is found. If the assets (human and real and intellectual property) were to be preserved and redeployed, it would necessarily have to have occurred fifteen or twenty years ago. It takes serious vision to see that far in advance.

But even here there is learning. Where is your career going to be in twenty years? Where is your company going to be in ten? Can you honestly assess these matters? What prevents you from doing so? Is it information, attitude or vision? Fix the tools and use the tools to build success. And then constantly reassess, reassess. Take failures in little bites, otherwise you may be engulfed in a large one, which given the passage of time and distance, will not be one at all.

We pound on safety because it is unacceptable to accept failure here. Keep a perfect safety record going with no apologies. It is not the place for risk taking.

Be safe and we will talk next week.