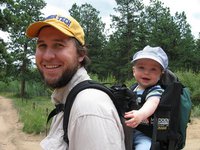 My first exposure to the study of demography was in high school debate. Many folks imagine a "debate" club as an opportunity for well-dressed young people to calmly orate on great issues. In reality, policy debate is a highly stylized blitz of arguments in which participants speed read cobbled together evidence in a bid to bamboozle their opponents. No matter what the topic – homelessness, immigration, environmental degradation – debaters argue that action or inaction will prevent or cause nuclear war or some other dire consequence. One stock argument takes the shorthand "Population" or "Malthus."
In the heady times of the late 1700s, philosophers such as Rousseau posited a vision of continuous improvement for civilization. Through adherence to democratic principles and ethical goodwill, society could grow increasingly virtuous and utopian. Reverend Thomas Malthus saw a different reality. He recognized that in any population – including humans – there is a tendency to reproduce until resource limits, diseases, or other environmental factors check the growth – often brutally with disease or starvation. For Malthus, overpopulation was the central problem of public policy. If humans could somehow stem population growth, then resources would become available to lift up the poor, and the risk of famine – an all too common occurrence throughout human history – would be much diminished.
Malthus first published his principle work – An Essay on the Principle of Population – in 1798. From then until now, ethicists, biologists, economists, environmentalists, and high school debaters have been deliberating its precepts.
From an environmental perspective, population growth strains resources. In its current state, the earth can produce enough food for 7 billion human beings – ethical distribution of that food is a different matter. There must be some number, be it 4 billion, 7 billion, or 20 billion that represents an unsustainable burden on the planet under contemporaneous technology. From an economic perspective, population growth promotes economic growth – more workers can produce more ideas, products, and services. Furthermore, population growth sustains safety net programs (like Medicare or Social Security in the United States) that rely on younger workers supporting elderly members of society. A population decline, without a commensurate reduction in lifestyle or life expectancy, necessitates that laborers remain in the workforce longer, that younger people save more of their earnings for retirement, or that more and more of current workers' resources redistribute to those who no longer work.
If you think carbon dioxide is a pollutant, then the prospect of population growth is harrowing. Every increase in population has to be met with an equivalent drop in per capita emissions, just to maintain the status quo. The U.N. presents a number of scenarios for population evolution through the end of the century, ranging from a low of 6 billion (after a peak around 2050) to a high of 27 billion. http://esa.un.org/unpd/wpp/Analytical-Figures/htm/fig_1.htm As difficult (at least to me) as it is to imagine a doubling of the human population, there are almost three times as many people on earth now as in 1950, which must seem incredible to those who have witnessed these changes.
Balanced against the warnings of Malthus and the high-end projections of the U.N., new research suggests that the demographic transition – the move from large families living at subsistence levels to small families with greater resources – may be accelerating. Researchers from Spain's Autonomous University of Madrid (UAM) and the CEU-San Pablo University use "rate equations (fully analogous to those employed in condensed matter physics) to simulate the time evolution of world population…The simulation predicts a population decline by mid-century." http://www.uam.es/departamentos/economicas/analecon/especifica/mimeo/wp20117.pdf
Your company might have a 10-year plan, but it probably does not have a 100-year plan. The number of jobs and the amount of revenue related to pulp and paper would be quite different in a world that has 6 billion people or a world that has 20 billion people in 2100. Regardless of the raw numbers, the shifts in population characteristics will also matter. Higher percentages of elderly and very elderly persons will demand specialized pulp products that will reward those who best meet that market. A rich world of fewer people may prove more lucrative than poor world with a larger population.
To judge your own prospects requires attention to the changing dimensions of your customers. Whatever business you are in, close observation of demographic trends is a must.
***
Travis holds a Ph.D. in public policy from the Lyndon B. Johson School of Public Affairs, University of Texas, Austin, Texas, USA. He resides in Golden, Colorado, USA.