[Adv.] Edge: Pulpers, too!
Published: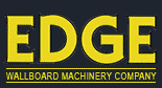 Did you know that Edge makes pulpers and pulper components, too? Edge has a complete line of their own design and makes replacement component for other popular brands. Contact Edge to learn more about their ability to fill your needs for pulpers as well as paper machine components. And when you talk to Edge, tell them you saw them on Nip Impressions.
Jim
Riddles by Travis:
Thieves recently stole more than 5 tons.

The market value is "only" USD 20,000, but maybe the perps were just trying to cover a whole lot of crepes.

What was stolen?
You can find the answer by starting here.
Comment