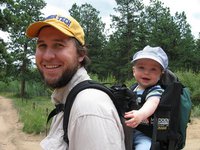 Our local award-winning theater, Miner's Alley, staged the holiday play Greetings by Tom Dudzick last fall. In one comic exchange, a character tells another about her mistaken perceptions of Santa Claus.
Well, I was telling Andy that I had these Christmas records when I was little. ... For years I thought Santa Claus was an alcoholic, on account of my Nat King Cole record. See, it had a skip in it. It would go — (Sings.) "They know that Santa's on his way. He's loaded (click) — He's loaded (click) — He's loaded (click) — "
This scene leapt to my mind when I read accounts of the recent Science report of Marcott et al. "A Reconstruction of Regional and Global Temperature for the Past 11,300 Years." Marcott uses temperature proxies to project the temperature record further back than previously attempted. The abstract reads rather drily: "Early Holocene (10,000 to 5,000 years ago) warmth is followed by ~0.7°C cooling through the middle to late Holocene (<5,000 years ago), culminating in the coolest temperatures of the Holocene during the Little Ice Age, about 200 years ago. This cooling is largely associated with ~2°C change in the North Atlantic. Current global temperatures of the past decade have not yet exceeded peak interglacial values but are warmer than during ~75% of the Holocene temperature history. Intergovernmental Panel on Climate Change model projections for 2100 exceed the full distribution of Holocene temperature under all plausible greenhouse gas emission scenarios."
As the authors freely admit, this research is speculative in its future projections, but the core of the work – the historical series – uses generally accepted, peer-reviewed techniques. On the whole, print media seemed to take the report as research and presented the findings as straight news, while the blogosphere reaction diverged between the extremes of climate fatalism and conspiracy theory. For example:
The Atlantic - We're Screwed: 11,000 Years' Worth of Climate Data Prove It
Forbes - Warmest Temperatures In 4,000 Years? Not So Fast, Global Warming Alarmists
The online reaction is what recalls a broken record. For people who hold a faith-position on climate science, information is irrelevant. Every new study will be treated with the same reaction – if it says something that fits the paradigm, it will be accepted; if it says something that does not fit the paradigm it will be rejected. "Evidence" takes a back seat to a worldview. The dyed-in-the-wool greens mute the researchers' caveats; the anthropocentric climate-change deniers claim that the science is junk. Laypersons can find someone who sounds intelligent to tell them whatever they want to hear.
The political system in the United States seems to mirror the stridency of electronic punditry, making it difficult to break the stalemate on greenhouse gas emission policy. In particular, the lockstep conservatism of the Republican Party and the perception that mitigating climate change is a Democratic issue preserves the status quo. I do, however, see potential for change in this dimension. If the GOP becomes more heterogeneous on matters such as immigration reform, perhaps stances on carbon emissions legislation will also be informed by personal conscience and regional economic concerns rather than party unity. There are pro-coal Democrats, maybe we will start to see more prominent anti-carbon emission Republicans in the near- to mid-future.
****
On March 19, Metso announced the first winners of its Tissue Technology Award, whose "purpose is to promote university students' or scientists' work to develop environmentally sound products applicable to the tissue making process." The jurors for the competition found two applicants equally worthy and split the prize accordingly. Metso awarded Alina Hagelqvist of Karlstad University in Sweden for her work on how to efficiently convert forest industry sludge into fuel. Hagelqvist shared the award with Jinsong Tao of State Key Laboratory of Pulp and Paper Engineering, South China University of Technology for his work in optimizing power use in Chinese pulp and paper plants.
Students and scientists appreciate recognition – and the financial awards that often come attached to the framed certificates. But what do awards such as this actually buy? These researchers were congratulated for work already performed. While they conducted their research they certainly were not thinking about the glories of the Metso Tissue Technology Award – because it did not yet exist. Instead they were motivated by other factors – perhaps they were simply curious about ways to apply new ideas to challenging problems, or maybe they enjoyed mastering the tools and ideas unique to their fields of study, or possibly their work was an outpouring of their personal values. It's just another reminder that incentives are nice, but humans are ultimately purpose driven.

***
Travis holds a Ph.D. in public policy from the Lyndon B. Johson School of Public Affairs, University of Texas, Austin, Texas, USA. He resides in Golden, Colorado, USA.