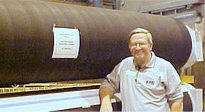 Week of 18 Feb 08
There are some ways to be wiser in original capital purchases that would reduce maintenance costs and downtime. I don't see anyone taking advantage of these ideas. Perhaps they will have to start with the equipment suppliers promoting them as a new benefit.

Let's start in the woodyard. When I was at the MOTAG meeting a couple of weeks ago, there was a comment about sprockets on conveyors. The idea was that since the driving sprocket is often twelve teeth and the driven sprocket forty-eight teeth, it was a good idea to purchase the set with the smaller sprocket hardened. The logic behind this is that the smaller sprocket makes four revolutions for every one of the larger and by hardening the smaller, they would wear out about the same time. Great idea, but why not also buy the shaft on the conveyor and the shaft on the motor in extended lengths? In this way, two sets of sprockets can be mounted on them so that when the first set of sprockets wears out, the second ones can immediately be fitted with a new chain. This will cut downtime to nil. It will not cost any more in stores inventory, for the second set would be in the storeroom anyway, now it is just mounted in place. Both sets can then be replaced on a major outage sometime into the life of the second set, thus not jeopardizing the operation of the pulp mill. Taken a step further, a small box could be mounted near the shafts containing the replacement chain, oiled and ready to go.

Ah, the ubiquitous horizontal pump. It is nothing short of a ceremony to align a pump and motor set. Why can't pump manufacturers build their units of a design and strength to use C-Flange motors? Bolted on the ends, these motors would require no aligning. This would mean there is no danger of misalignment and early wear problems. The T-frame motor and its sloppy bolt holes, coupled with poor pump and motor base manufacturing techniques, make the current setup about as dimensionally accurate as Stonehenge (which is fairly precise, but not perfect, relying on the rotation of the entire earth, not just a local motive source, for its accuracy).

Suction roll seals. Why can't manufacturers build suction roll vacuum boxes with two sets of installed seals that can be raised and lowered from outside the roll without removing it from the press section? Think of the time and cost this would save. Yes, it would take some clever design work, but it does not seem impossible to this old mechanical engineer. It may even eliminate the need for some spare rolls.

Installed spares are generally a bad idea. I have seen many articles written on the folly of installed spares, and when this principle is applied indiscriminately, I heartily agree that it shouldn't be. However, when the spare is cheap relative to the maintenance costs or potential downtime an unplanned failure represents, installed spares make a great deal of sense. They can free up maintenance time to do preventive and predictive work, saving big money.

How to know when installed spares make sense? Start with the big picture, analyzing planned and unplanned downtime, and maintenance labor and material costs during said downtime. If the length of shutdowns is long and the labor costs are high when compared as a sum against the cost of replacement items installed, it may be time to look at the situation in depth. Carefully qualified installed spares may just be very valuable.

And, of course, the less maintenance labor required to properly maintain your facility, the less likely you are to incur maintenance related accidents, a cost of nearly incalculable size.

Be safe and we will talk next week.