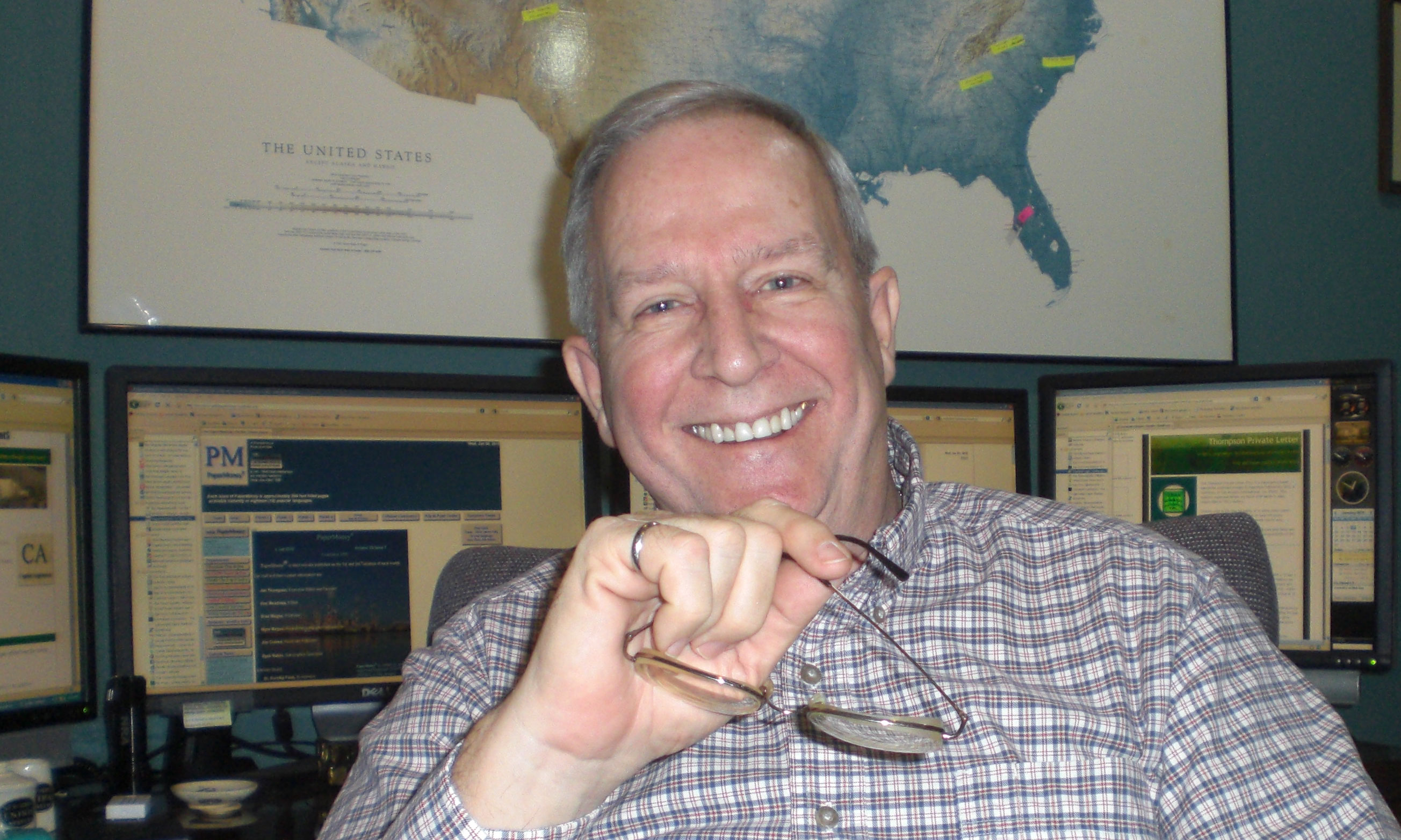 Our theme for the month of March at Paperitalo Publications is water usage. So, I thought I would start off with the wild and theoretical and then here, and in our other publications during the month (do you know we now have nine other publication issues during the month besides Nip Impressions and PaperMoney?) we would move towards the practical as the month goes along.
If one looks at a mill as a "black box" one will see the subject of water come up in four loci: (1) input, liquid phase; (2) output, liquid phase; (3) output, vapor phase; and (4) output in the product.
So, let's do a thought experiment.
****
Hear the news about the pulp and paper industry worldwide here first!

Listen to Pulp & Paper Radio InternationalTM regularly.
****
But before we do that, let us recognize that, though many have tried, all have failed so far to make any products other than niche products without using vast quantities of water in the forming phase of papermaking. Doesn't mean someone will not succeed, but at least to this point in time, we need water, lots of water. We need it to be fresh water and we need it to be very clean, and, at least to start with, pH balanced.
So, if we think about the input, or liquid phase, we usually source it from only two or three locations: wells, streams, and a subset of streams, flowing lakes. Can we source it anywhere else? Well, if you are along an ocean, you can source it with desalination and reverse osmosis processes.
But there is something else we can do on the input side. A social something. We can divert a small stream to a local city for final polishing and turning into potable drinking water. I saw this done in the United States nearly thirty years ago. It earned the mill great local public relations and, from a supply standpoint, we didn't even feel it—their needs were probably smaller than our mill's leaks.
****
Savvy advertisers read Advertising Arguments.
****
Likewise, on the output side, liquid phase, we often just return our clean effluent to a stream. This may be the easiest and most economical thing to do, but again, other conditions may be worth exploring. In developing countries, with mills adjacent to polluted streams where clothes are still washed, why not set up a business person in the laundromat business and supply them with discharge water to run it? Or pump it back up to a holding pond and reuse it as a diluting stream (this is already done in mills without discharge permits). In this way, it will reduce the fresh water demands.
Output, vapor phase, has always been a problem. There is a significant amount of heat here, as well as a goodly sum of water. However, the tremendous volume coupled with the relatively low heat head (the difference between the temperature of the moisture laden stream and ambient) makes it difficult to recover this energy cost effectively. Over the years, I have thought about ducting it to power boilers as part of their air intake stream, but to my knowledge, no one has done an engineering and economic study on this.
And finally, there is the output in the product. To my knowledge, everyone sells as much water (moisture) in their paper as the end use will allow. But is there something else that could be done? For instance, could some sort of hydrophilic fibers be added to the stock that absorb water on a time absorption basis, that is they absorb water while the paper sits in the warehouse or in rolls? Of course, this would have to be an economic study, but if we could sell more water this way, the benefits are huge, for not only is the water cheap, it also means we do not have to go to the costs of removing it.
This author believes the search for water solutions in the paper making process is not over, and the few examples above illustrate some simple ideas perhaps worth exploring.
What do you think? What ideas to do you have? Take our quiz this week to express your views.
For safety this week, remember water is dangerous. Even more dangerous are fluids around pulp and paper mills that look like water but are not. I remember stepping in a puddle in a pulp mill one time. Two steps—my feet started tingling and at the third step the soles of my shoes stayed where they were—all the stitching had dissolved. Hey, it looked like water to me.
Be safe and we will talk next week.