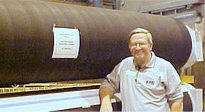 Week of 11 Feb 08
Disclaimer: I am going to talk about some things in this article that an occasional reader may see as crass commercialism on my part. That is not the intention; such matters are used here merely for illustration.

Last week, I had the privilege of being the keynote speaker at the TAPPI MOTAG-South meeting here in Atlanta. It was a lively crowd of over 160--an impressive room full of people. However, that crowd was small and the expense of everyone showing up for the meeting far greater than the reach I have each week with this column and the reach my company has twice per month with PaperMoney(R). In fact to get the readership of this column in one physical place would require a facility the size of a small sports stadium and resources for direct travel expenses (ignoring the value of their time) well into six figures, if not into seven figures. i.e., over a million dollars. If you need further convincing of this, just look at the letters column below, representing a tiny fraction of a fraction of the readership.

Twenty-five years ago, paper industry professionals were bemoaning the loss of the grocery sack business, traditionally a paper product, to plastic. That battle is over and we lost. The newsprint battle is in its last phase in first world countries, and the paper industry is losing that one, too. Other communications papers are under assault, and many of those battles will be lost, although many specialty grades will survive and thrive (for instance, Chuck Klass sent me a press release last week about a new initiative regarding certain grades for color printing that looks promising as a specialty niche). When we lose it is because of economy and utility of competing products. Some bemoan what will happen to the mills and the mill towns where these grades were made. The truth is, they will die, for the grades are obsolete, the machines are obsolete and the infrastructure is worn out. They are as dead as the looms of Nottinghamshire. Get over it. And don't build a biorefinery there (an obsolete mill site), just because there is a rusted-out skeleton of former glory still swaying in the wind (if these things are worth building, build them fresh from scratch in the places they make economic sense, otherwise they have no chance of succeeding).

In the bigger picture, what we must not let sway us is the loss of the communications grades. We will limit ourselves, our companies and our industry if we do not embrace the new, winning technologies and exploit them to our benefit. Just because we have fond memories and some pain from our own technologies that share the setting sun, we must not let that influence our use of the new and their potential.

Time for a pause in the train of thought here: these conditions do not make me pessimistic or depressed about the pulp and paper industry. To pull the third world countries even close to the per capita levels of use we still experience in developed economies will take tremendous expansions in traditional grades. We are still in the early days of the development of cellulosic fiber uses. What most of us lack is merely the courage and vision to see where the yet to be discovered wonders of this marvelous material will take us. I recently, for instance, had the privilege of peeking at a mass of confidential ideas that a collection of researchers are contemplating. I got excited--there are some great things on the horizon. Pulp and paper will be more important, more vibrant in the future than it has been in the past--I am convinced of it--if we give the basic researchers the money needed to investigate their ideas.

But back to the point. It is a detriment to your career and a hanging on to the obsolete to think of the communications you need to do for yourself and your company solely in terms of paper, mail and courier service. We'll spend the rest of this column telling you how you might want to think about your own reach, and what it might do for you personally.

First, there is at least one free way to get rid of spam in your email box for good and eliminate your excuse that email is impossible to manage. Get a gmail account from Google. In the last month, I have received over 17,000 emails (my oldest email address is thirteen years old this year, so it collects a lot of unwanted material). About 1,600 of them were of interest to me and that is the only ones I saw. I don't know how Google does it and I really don't care, all I know is it works.

Next, expand your reach--for free. I suggest you get an account on linkedin.com for general networking (I am there at http://www.linkedin.com/in/pulpandpaper) and join the Cellulose Community (www.cellulosecommunity.org) for specific networking. LinkedIn links over 17 million professionals world wide. Next, you may want to join a service called NotchUp (www.notchup.com) where you can have your resume in permanent circulation. If you are thinking about looking for a mid level career change these days, most companies do not even accept paper resumes any longer, they require you to fill out an online form so that they can easily keep track of applicants. By telephone, facsimile or written letter, you have no hope of keeping up the level of contact your peers are maintaining with modern methods. Each day you fall further and further behind.

Other services you may want to explore are www.twitter.com and www.skype.com. Both free (skype has some restrictions) and both designed to help you communicate quickly.

Moving to these new forms of communication and embracing them is being done by all ages and all walks of life. Two of the most avid users of email and electronic links that I know are senior professionals in our industry--one of them was responsible for the manufacture of countless tons of printing and writing papers in his career. Use of these methods are not age related, they are attitude related. If your attitude is not up to date, you and your career will be left behind. Get with it.

Modern communication methods are a great way to communicate safety concerns throughout your organization rapidly. Have you established such a system yet? Talk to your safety professionals about it today.

Be safe and we will talk next week.