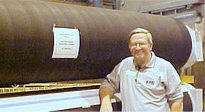 Week of 4 Feb 08
"Sustainability" has recently joined the list of hot words and phrases. Like many phrases before it, most people have no clue as to what it might mean (because there is no formal definition) yet everyone thinks they know what it means. A few from the past that fall in this category are:

Proactive
Matrix Organization (from the 1970'--has nothing to do with a movie or video game)
Fast track
Telescoped schedule
ISO 9000
Diversity
Paradigm shift
Six Sigma
Tranformative actions
Product life cycle
Green
Carbon footprint

ad nauseum.

Most of these words stand for good and useful things ("Paradigm shift" may be suspect), but the majority of people bantering them about are clueless as to their meaning, all the while thinking they know and being disrespectful of you if you act as if you don't know.

Sustainability has suddenly appeared and has taken on a "green" inference. As a stand alone word, it has nothing to do with being green. For instance, if your avocation is a forest arsonist, said avocation is sustainable until either (a) you get caught or (b) you run out of forests, whichever comes first. Such an avocation, at least on the surface, seems to have little to do with being "green."

Likewise, a sustainable business may or may not have anything to do with being green. If, for instance, you operate an ice cream stand, this could be called a sustainable business for as long as (a) you have a supply of ice cream, (b) people want ice cream, (c) you make a profit and (d) you comply with all legal regulations to operate your ice cream stand. Once, again, nothing green about this.

From these examples, one sees that "sustainability" is relative to some condition. If this is relative to the health and well being of Mother Earth, there is probably a long litany of conditions with which one need comply in order to truly say their business is "sustainable." I suspect one would need be very careful about determining what those are, for on one scale, certain activities could appear sustainable while on another level they are destructive. One thing we must not lose sight of is entropy, which I suspect 99.5% of the population does not understand. I have not heard of nor read one discussion of "sustainability" including any acknowledgement of entropy. I think this is important if one is going to be serious about sustaining anything (if you want to read up on entropy, go to http://en.wikipedia.org/wiki/Entropy for a layperson's view).

So, if you are one of these newly minted sustainability managers prowling the planet, probably the first thing you need to do is develop and reach consensus within your own organization as to the meaning of "Sustainability." Shouldn't take you more than six months.

By the way, if you have any idea what "carbon footprint" really means, drop me a line IF you can supply a scientific definition that does not include the word carbon more than once.

In the meantime, let us sustain a zero tolerance for accidents, even if it requires a paradigm shift in our thinking. No joke.

Be safe and we will talk next week.